'These guys who are running away -- they are running away from all that the BJP stands for.'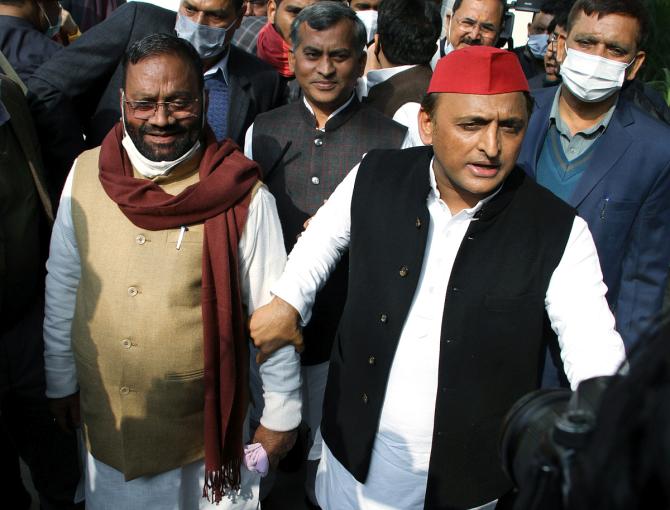 The taxonomy of Swami Prasad Maurya's political career is well known: A five-time MLA and an influential non-Yadav OBC leader from Uttar Pradesh who won the last three assembly elections from Padrauna in the Kushinagar district of Uttar Pradesh.
Maurya, 68, began his career as convener of the Yuva Lok Dal in 1980s, went to the Janata Dal and joined the Bahujan Samaj Party in 1996. He won assembly elections on a BSP ticket in 1996 and eventually became a minister in the Bharatiya Janata Party-supported Mayawati government a year later.
He was considered second in command to Mayawati, and stayed in the BSP for two decades. He was a minister twice, leader of the Opposition twice and president of the party once.
In 2016, months ahead of 2017 assembly polls, he joined the BJP. He sought and got a nomination for daughter Sanghmitra, who has been a BJP MP since 2019.
Now anticipating that someone else might be nominated from Padrauna instead of him, he has crossed the floor, joining the Samajwadi Party.
The BJP is maintaining the moral high ground: That he asked for nominations for a host of family members and the party does not believe in nepotism so it could not oblige, and he left the organisation.
But the party had no difficulty in giving his daughter a ticket in the Lok Sabha election though he was a serving minister in the state government.
End of story?
Not quite.
Maurya represents the new strain in the BJP. It may be the biggest political party on the planet. But not all of its members are true-blue signed-up Rashtriya Swayamsevak Sangh-BJP and have come to it from other parties.
Home Minister Amit Anilchandra Shah made it a point to highlight this when he commented with a chortle during the Maharashtra assembly election campaign that everyone in every political party barring former Congress chief minister Prithviraj Chavan had been in touch with the BJP to join it or had sought a ticket.
In the run-up to the 2017 elections, the BJP had inducted many leaders from the SP, the BSP and the Congress. It gave tickets to more than 50 new party members. As many as 12 of them even became ministers in the state government. Maurya was one such.
Consider the context of this election. If it had been normal times, despite political disruptions such as demonetisation, the BJP would have rested a bit content: The beneficiaries of various government-run schemes are willy-nilly eager backers of the party and in all states, BJP booth-level workers have corralled this group to great political benefit.
However, the current UP election is taking place against the backdrop of a health crisis that, admittedly, no party could have averted.
"People are not blaming the BJP for Covid. But they are angry at their reduced circumstances: Loss of jobs, livelihood and lack of access to basic amenities like hospital beds and oxygen. No one has forgotten those dark days," says a professor at a major central university who did want to be identified.
"There is a vast pool of the silent voter in UP who must not, cannot, be ignored," he adds.
Recognising this, the party has tried to take remedial action. Yogi Adityanath was propelled centre-stage by the party leadership at the last national executive where he was made to open proceedings, a privilege usually reserved for the party president.
He has been given unprecedented positioning right next to Prime Minister Narendra Damodardas Modi.
All this signals to BJP-minded voters that their faith in him and the 'double-engine' government is not misplaced. In this scheme of things, Maurya and others of his ilk are just 'turncoats'.
But Dalit scholar and ideologue Chandrabhan Prasad doesn't agree. He feels Maurya's defection is a sign of a process that is much more pervasive and widespread than the BJP realises or concedes.
"There was a time when OBCs meant only Yadav and Kurmi. Mayawati did include some lower OBCs in power, but to a limited extent. The BJP gave a big boost to non-Yadav OBCs," he says.
"Lower OBCs had gone across to BJP en masse, on two grounds: First, that the Yadav should go because they appropriate everything in the name of OBCs; and second, the anti-Muslim polarisation," he explains.
Now, Prasad contends, people have tested that.
"These guys who are running away -- whether they ran away from the BJP or not, that is not important. The important thing is they are running away from all that the BJP stands for," he adds.
"The educated Dalit middle-class is also moving away from the BJP to the SP because it judges that at this juncture it is more important to defeat the BJP than installing a Dalit CM or PM."
Prasad hastens to add that some of the caste groups that were the BJP's mainstay continue to be with it.
"Thakurs and Vaishyas are still with the BJP. So are Kurmis, Gujjar and Lodh castes -- these are 100 per cent with the BJP still," he says.
But he has an interesting analogy. He says in the UP election, "Hindutva has become like 'Dalda', the iconic ghee brand that lost market share and became extinct because of a rumour, so much so that even Hindustan Lever could not revive it."
"I see Maurya's exit as a part of a process," says Prasad, "not a one-off defection."