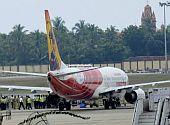 The Air India pilot, who pressed the flight hijack alarm in panic at the Thiruvananthapuram airport last week amid protests by passengers, has said in her complaint to police that she was threatened with dire consequences by some of them after they barged into the cockpit.
According to the FIR lodged with city police, Commander Rupali Wagmore complained that a passenger even told her he would not hesitate to kill her if anything happened to his six month old child.

Around 200 passengers of AI Kochi bound flight from Abu Dhabi had on October 19 protested and some allegedly tried entering the cockpit after it was diverted to the state capital due to poor visibility. Having boarded the previous night, they alleged it took several hours even to take off from Abu Dhabi.
Passengers also alleged that even women and children were not provided water or refreshments and they started protesting only after there was no word from the crew on when the flight would leave for Kochi.
State police has set up a special team under Assistant Commissioner K S Vimal to ascertain the circumstances that led to the incident and find out if the pilot's charges against the passengers are true.
Based on Wagmore's complaint, police had registered a case against six 'identifiable' passengers and begun investigation by questioning airport staff who were witness to the drama that unfolded at the airport.

Vimal told PTI on Tuesday that police plans to take statements from the pilot and passengers against whom the case was registered. "We have not been able to meet the pilot. We are trying to meet her to take her statement", he said.
The team would go to Kochi soon since the passengers involved in the incident mostly hailed from that area.