Tragedy invaded Poonam Doiphode's life when a water pipeline burst in Mumbai.
Text, photographs, video: Hitesh Harisinghani/Rediff.com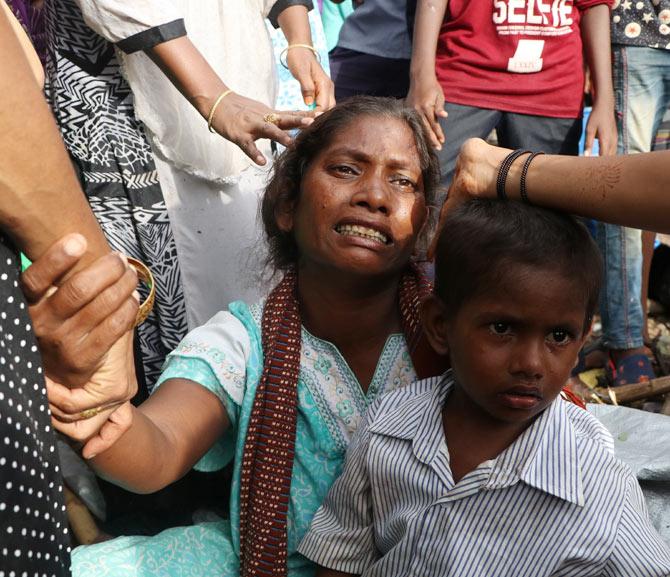 IMAGE: An inconsolable Poonam Doiphode.
When it rains in Mumbai, the July 26, 2005 floods are never far away from Mumbaikars' minds.
But then, the rains have barely drenched Mumbai after a dry June.
Then, a water pipeline burst.
And Behrampada, the poor cousin of the glittering Bandra West -- where fancy stores, popular restaurants and luxury apartments rubbed shoulders -- swirled under a forceful rush of water.
By the time I reached the western Mumbai suburb, the water had receded.
It left behind grim faces, mangled homes, damaged streets and a destroyed madrasa.
BrihanMumbai Municipal Corporation officials and the city police were at work, attempting to restore some kind of order.
The unexpected surge of water destroyed Poonam Doiphode's world.
Two of her four children, nine-year-old Priya and eight-month old Bhavesh, were swept away by the water and lost their lives.
IMAGE: The road has disappeared, leaving behind a crater.
As her neighbours closed around in support, they did not hide their anger at the destruction that had been caused.
Syed Usman Abdul Jabbar, a businessman who stays in Behrampada with his family, lost almost everything. The force of the water destroyed one of the walls of his home.
"I have lost my money and the ration for the month. I don't know how and when things will get back to normal."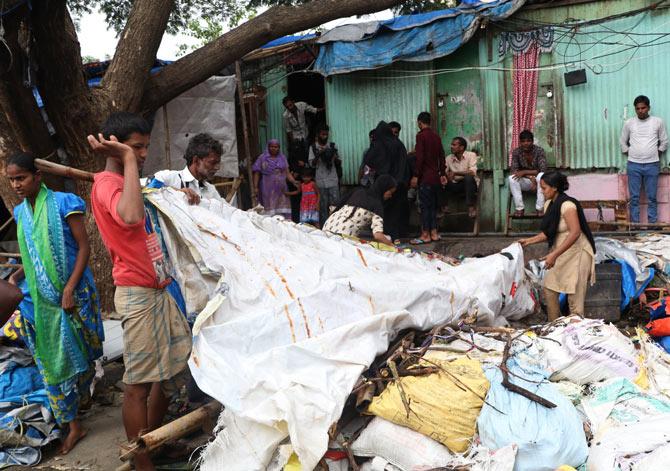 IMAGE: The residents attempt to salvage whatever they can.
One resident, who has also been rendered homeless, added, "It's good it isn't raining today; our miseries would have doubled by now."