Heavy rains in Mumbai and its adjoining areas crippled normal life and disrupted rail and air traffic on Sunday.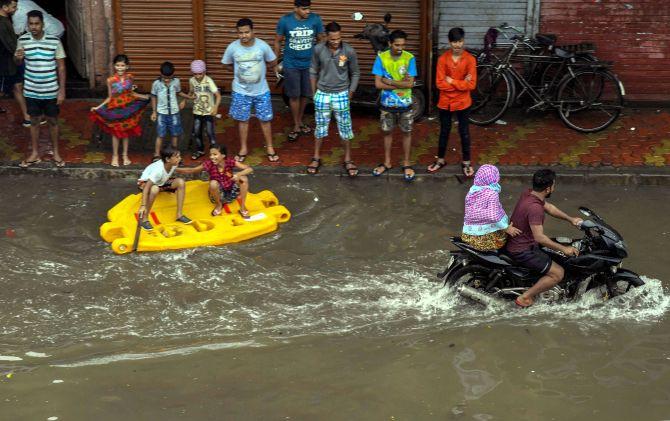 Amidst the heavy downpour which continued to pound the city and its neighbouring areas, a 16-year-old boy was washed away in flood in the adjoining Palghar district, an official said.
Mumbai woke up to heavy downpour for the second day in a row, with no immediate respite likely as the weather office predicted more showers throughout the day.
According to the city civic body, the India Meteorological Department has forecast intermittent rain with heavy to very heavy showers in the city and suburbs and extremely heavy rain at isolated places in the next 24 hours.
The city, its neighbouring Thane and Palghar districts and Navi Mumbai town have been witnessing incessant rains since the last two days and a number of incidents of tree fall were reported from there, an official said.
Being a Sunday, most of the office-goers were spared of hardships caused by the suspension of local train services on various routes.
Due to the accumulation of water on tracks at a few sections following heavy and continuous rains, the Central Railway's services on the Main Line and Harbour Line between the Chhatrapati Shivaji Maharaj Terminus (in Mumbai) and Karjat, Kasaraand Khopoli were suspended since 8 am, its chief spokesman Sunil Udasi said.
"This has been done as a precautionary measure to avoid hardships to commuters later... the situation will be reviewed every hour," he said.
Besides local trains, some long distance trains like Duranto, Konark Express, Amritsar Express and Devgiri Express were stuck near Igatpuri (in Nashik district), and Aatgaon and Khardi near Kalyan, another Central Railway official said.
A Mumbai airport spokesperson said two incoming flights were diverted and six had to make a go around due to the heavy rains.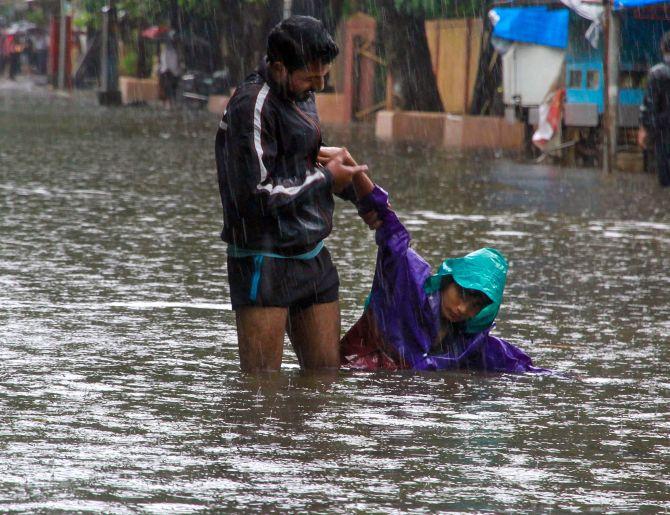 In Thane, at least 58 people stranded at a village were rescued by the Indian Air Force on Sunday.
The people were stuck at their water-logged homes in Ju-Nandkhuri village in Khadavli area of the district since morning after very heavy rains in the area.
On the request of the state government, the IAF deployed a Mi 17 helicopter to rescue the stranded people, a defence spokesperson said.
"Around 58 villagers, including 16 children, were rescued and shifted to a safer place," he said.
Thousands of people in Thane and Palghar districts of Maharashtra were also left without any power after substations were submerged and transformers damaged due to heavy rains.
Maharashtra State Electricity Distribution Company public relations officer Vishwajeet Bhosale, in a statement, said power supply was stopped from Vasai substation as a precautionary measure.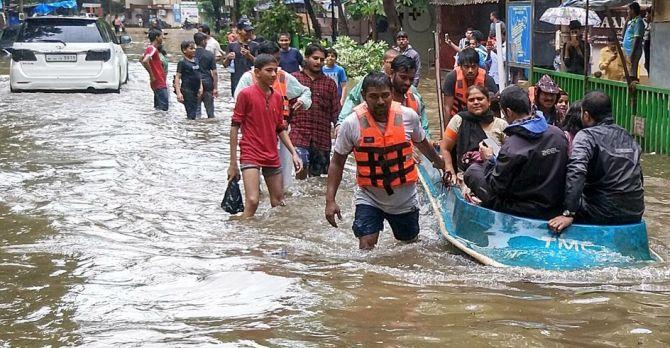 "Around 1.50 lakh customers in Vasai, Girij, Sandor, Kolar, Navghar, Sativali, Sun City, Vasai West and Mavelpada have been affected by this," the release said.
He said 68,000 people in Kalyan subdivision, including in Manda, Titwala, Varap, Maral, Kon and Khadavali, were also affected due to the disconnection of electricity supply.
It informed that heavy rains had caused water to enter Shahapur switching centre, leading to power outage in that town, and had also damaged the feeder line at Dhasai and Asangaon.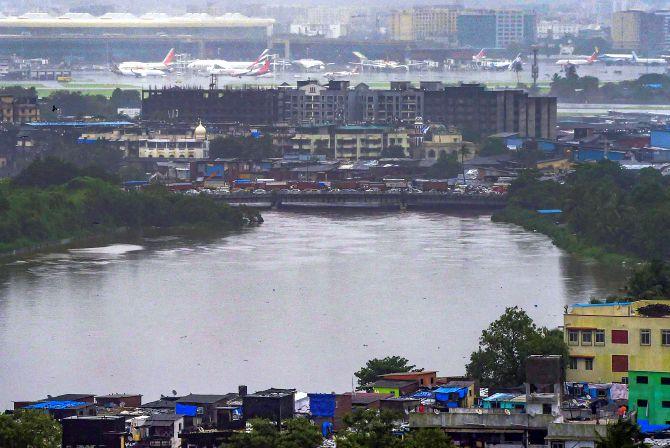 "Badlapur is affected due to water-logging. The level of Ulhas river is rising. All four feeders in Sonivali have been switched off," Bhosale said.
Additionally, at least 400 people from Kranti Nagar near the Mithi river in Mumbai were shifted on Sunday after its water level crossed the danger mark following heavy rains in the city, an official said.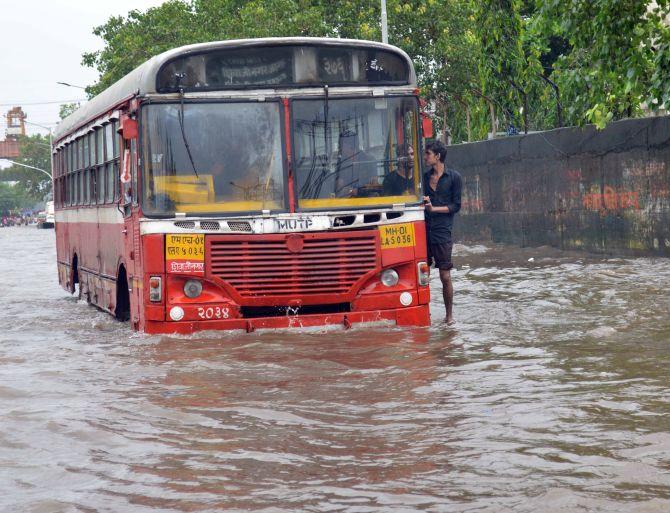 Meanwhile, a 23-year-old man, identified as Raja Mehboob Shaikh, was feared drowned after he fell into the Dharavi creek on Sunday, a police official said.
Police officials and fire brigade were making all efforts to trace him, he said.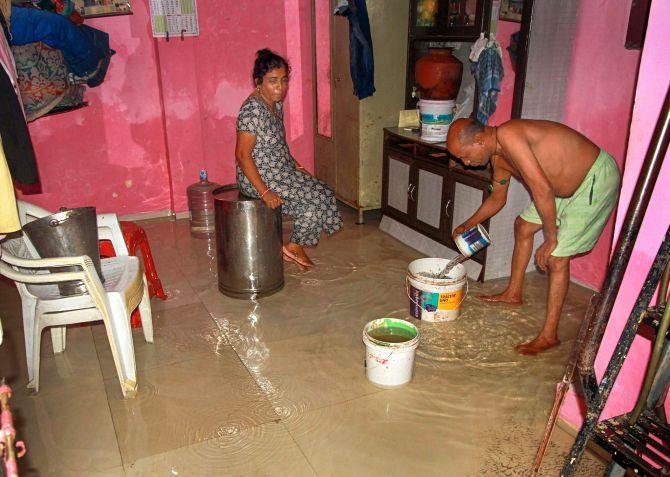 Gujarat: 45 marooned villagers airlifted by IAF
The Indian Air Force on Sunday airlifted 45 persons stranded in their flood-hit village in Navsari district in south Gujarat, said officials.


Over 5,000 people were shifted from low-lying areas in Navsari district since early Sunday morning due to surge in water levels of Ambika and Purna rivers due to heavy rains, Navsari Collector M D Modiya said.
"Forty-five people were stranded at a prawn farm in Mendhar village due to the rise in the water level of Ambika river owing to heavy rains. They were airlifted by the IAF helicopters and taken to Surat airport," he said.
Two IAF helicopters rescued 31 village residents in the first round, while another chopper rescued 14 stranded more villagers in the next round, said Modiya, adding the rescued people were flown to Surat, from where they would be brought back.
Waghai taluka in Dangs district received over 340 mm rainfall between Saturday and Sunday, causing water levels in both Ambika and Purna rivers passing through the district to breach the danger mark, officials said.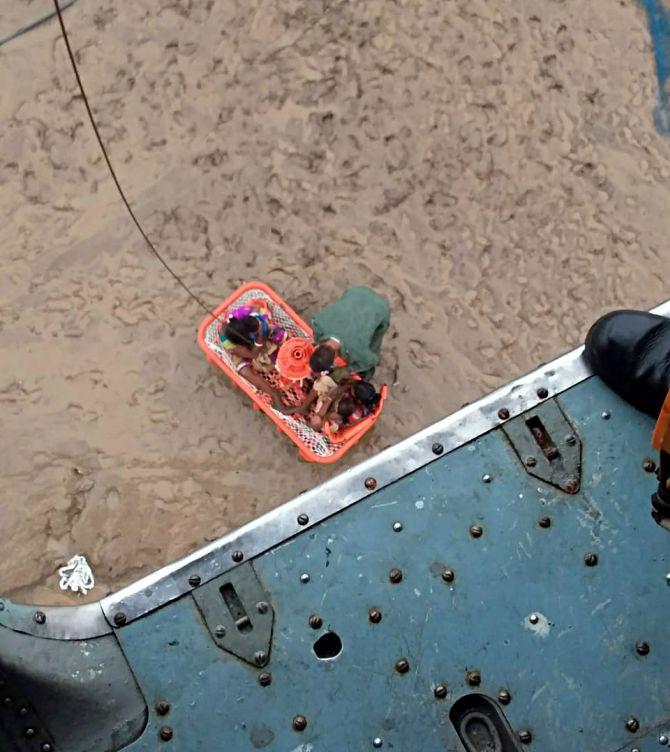 Several areas in Navsari district have been waterlogged with over a dozen villages being badly affected, they added.
Parts of Valsad and Surat districts continued to receive heavy rains, with Kaprada in Valsad receiving 256 mm of rains between 6 am and 4 pm Sunday, data released by the State Emergency Operation Centre said.

Uperpada in Surat was battered by 222 mm of rainfall during this period, while Kwant in Chhota Udepur received 180 mm of rains.
Valsad Collector C R Kharsan said the water released into Daman Ganga river from Madhuvan dam caused the river to swell, with the district administration issuing alerts for people living in low-lying areas.
"We have asked people not to visit tourist points near the river or the sea," he said.
A few places in the districts of Surat, Anand, Dangs, Navsari and Valsad received extremely heavy rains on Saturday, while heavy to very heavy rains occurred in several districts in south and central Gujarat, the IMD said.