'His simple lifestyle, his optimism, his hard work and his genuine humility made him an authentic role model to millions of children, many of them growing up in challenging circumstances.'
Indian-origin professors in California fondly share with Ritu Jha/Rediff.com memories of their encounters with a President like no other, A P J Abdul Kalam.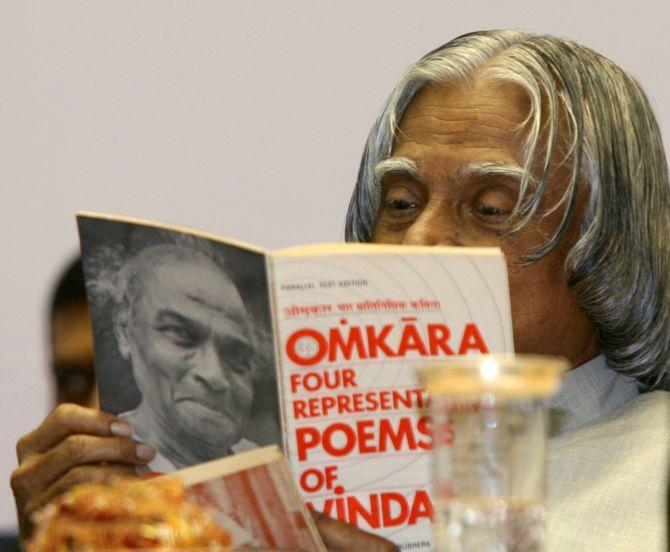 IMAGE: A P J Abdul Kalam at the 39th Jnanpith Award ceremony in New Delhi, August 10, 2006. Photograph: B Mathur/Reuters
"India has lost one of its most illustrious sons of the modern era," Stanford Professor Arogyaswami J Paulraj said after he heard the news of President A P J Abdul Kalam's death.
"I first met President Kalam in 1985, when he visited Stanford University. I was a visiting scientist on leave from the Indian Navy," recalled Dr Paulraj, who served as one of the Indian Navy's top scientiists for many years, retired as a commodore before joining Stanford University aged 48.
Awarded the Padma Bhushan in 2010, Professor Paulraj invented the MIMO (multiple input, multiple output) technology, which has made WiFi possible.

Dr Kalam had just launched the integrated guided missile development programme for India's ministry of defence. "While visiting the memorial church on campus, he surprised me by dropping to his knees and praying. Later, he confided that he had prayed for the success of the programme and that again came as a surprise, Professor Paulraj added.
Professor Paulraj again met Dr Kalam after he was assigned to head the defence electronics and research laboratory, a large electronics warfare lab in Hyderabad. Dr Kalam was then the director of the sister lab where he built missiles.
"Dr Kalam took me under his wing and advised me on the best ways to run a large institution. I did not ultimately join DLRL and went on to start a new lab for Indian defence. Around this time, he asked me to look at every aspect of the missile programe and submit a personal report to him, which I did," Dr Paulraj recalled.

"The missile programme delivered on many of its promises with the Prithvi and Agni class of missiles, and his prayers on the Stanford campus were indeed answered. I kept in touch with Dr Kalam after he rose to head all of defence R&D."

"I was at that time back at Stanford, and he would quiz me about Silicon Valley and how things worked here. Later, he went on to become the most beloved President of India. We would still meet at conferences, but he was now surrounded by the press and scores of admirers; it was harder to connect," Professor Paulraj added.


'You have to have a dream before dreams can come true'
"Dr Kalam's contributions to contemporary India are a legion, but in my mind his biggest legacy is the inspiration he has been to the youth of India. His simple lifestyle, his optimism, his hard work and his genuine humility made him an authentic role model to millions of children in India, many of them growing up in challenging circumstances."

"He made them dream about a better India, and as he often said, 'You have to have a dream before dreams can come true.' He embodied the highest values on which India was founded -- a democratic, secular and pluralistic country which valued and nurtured all its citizens. He was truly a Bharat Ratna -- India's gem. Dr Kalam will be sorely missed," a nostalgic Professor Paulraj said.

S Shankar Sastry, dean of engineering at the University of California, Berkeley, stepped down memory lane to remember his encounter with Dr Kalam.
"President Kalam was a staunch supporter of international scientific collaboration. When I met him to speak about UC-India collaborations he was exceedingly well briefed and engaged."

"He had the vision to expand the frontiers of Indian research organisations with its American counterparts. His advocacy of science and technology will be sorely missed," Professor Sastry said.
"Oh! My god! When did this happen?" exclaimed Professor Ram Akella, when he heard that President Kalam was no more. Rediff.com called him early morning while he was driving and he had not heard the news. "He had an amazing personality."
"It was in 2009, I was the host of an event at the India Community Centre in Milpitas, California and he was the chief guest," said Professor Akella, Director, Center for Knowledge, Information Systems, and Management of Technology, University of California Santa Cruz.

"He was a wonderful person. The first thing he said when we met was, 'Your father Professor A K Rao ('Professor Akella Kameswara Rao was professor of aerospace engineering at the Indian Institute of Science-Bangalore from the late 1950s through the early 1990') was my guru.' Dr Kalam was very charming."

"'Let us do something good', he always encouraged. His role in space technology is incredible; he was 'the man' in India's space programme."

"I worked with him and he always looked for practical problems and developing a new theory based on that," Professor Akella added. "He brought science and technology together and had good product management skills."

"He was a philosopher; as a scientist and technologist Dr Kalam is unmatched," the professor felt.

Vish Mishra, Silicon Valley venture capitalist, met only one Indian President.
"The best ever! I was among 75 global Indians invited for the launch of his dream project to digitise rural India in 2003," Mishra remembered.
"I later brought him to the India Community Centre, where he endeared himself to everyone. He had an uncanny ability to inspire Indian youth and others. His charm and wit made him even more popular. I hope his legacy lives on and many people follow his path to science, innovation and serve humanity."
"It indeed is a sad day for India and scientists everywhere."

MUST READ