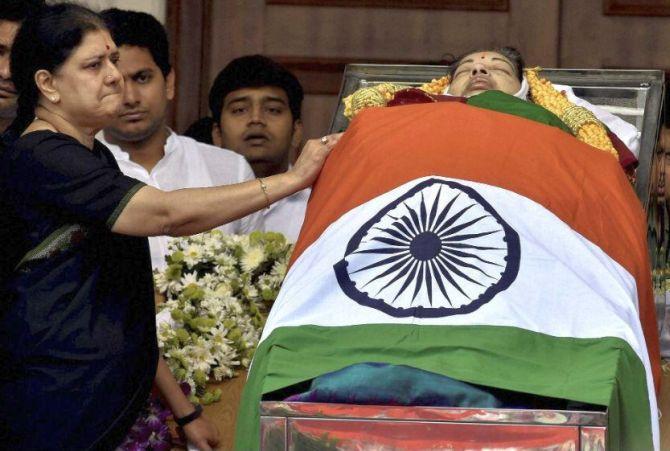 The Madras high court on Monday sought to know the locus standi of petitioners in the public interest litigations seeking probe into late chief minister Jayalalithaa's death, as to what extent details of her health records could be made public and if there was any specific doubt over treatment she received.
A bench comprising Chief Justice S K Kaul and Justice M Sundar raised these questions when one of the three PILs seeking a judicial inquiry into the circumstances leading to her death came up for hearing.
In his PIL, All India Anna Dravida Munnetra Kazhagam worker P A Joseph has sought an inquiry by retired Supreme Court judges into 'questionable incidents', including Jayalalithaa's sudden hospitalisation, reported recovery and the cardiac arrest resulting in her death.
The petition was admitted by a vacation bench on December 29 last with lead judge Justice S Vaidyanathan expressing doubt over the circumstances leading to Jayalalithaa's death and indicated that he may order exhumation of the body.
The Judge had then issued notices to central government, prime minister's office, the state government, among others.
When the matter came up on Monday, the judges wanted to know whether the petitioner and two others, including social activist Traffic Ramaswamy, who have filed similar PILs, had any locus standi to raise the issue in court.
The bench also wanted to know as to what extent details of treatment of people can be placed in the public domain merely because they held a public office.
Whether illnesses such as headache and other medical conditions of a public servant too must be put in public domain, it asked, adding these needed to be looked at.
The bench also sought to know whether there was any specific doubt regarding medical treatment given to Jayalalithaa and noted that the absence of an immediate family member (before the court) complicated the issue a bit.
Earlier, senior counsel K M Vijayan, who appeared for Joseph, said people were worried about the secrecy surrounding Jayalalithaa's death and that her leg was 'amputated' during treatment prior to her passing away.
Except for medical bulletins issued by the hospital, the government did not release any details of Jayalalithaa's health condition, he said.
Questioning the source of this information, the bench said everything was over and now there was no need for worry.
Senior advocate R Gandhi, who appeared on behalf of another petitioner, Ghanasekaran, said even the state Governor was not allowed to visit Jayalalithaa when she was being treated.
Apollo Hospital's counsel P S Raman, however, said a complete discharge summary of Jayalalithaa was ready with the hospital and could be placed before the court. He denied there was any mystery behind her death.
The bench then adjourned the hearing of the PIL filed by Joseph till February 23.
It said the PIL of Gnanasekaran too would be listed to see if it raised any point not raised in other PILs.
Meanwhile, Madurai bench of the high court referred a PIL seeking a Central Bureau of Investigation probe into Jayalalithaa's death to the principal bench in Chennai, saying similar matters were being heard by the first bench.
Besides the PILs in the high court, the Supreme Court was also moved over the issue with expelled AIADMK member of Parliament Sasikala Pushpa approaching it for a probe.
However, the apex court had last week declined to entertain her plea, saying she should not have approached her directly.
Jayalalithaa was admitted to the hospital on Sept 22 with complaints of dehydration and fever and later treated for infection. She suffered a cardiac arrest on December 4 and died on the next day.