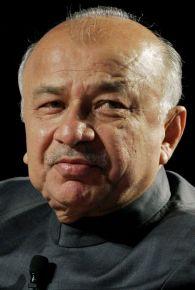 The Bombay high court on Thursday said it would hear the application filed by a social activist seeking to make Union Home Minister Sushilkumar Shinde an accused in the Adarsh housing society scam after the Central Bureau of Investigation completes its probe into the alleged benami transactions.
Social activist Pravin Wategaonkar has in his application sought inclusion of Shinde as an accused in the case, alleging that he owns benami flats in the plush 31-storey Adarsh building in south Mumbai.
According to the application, Shinde had suggested inclusion of late Major N W Khankhoje as a member in the Adarsh society. "Former MLC Kanhaiyalal Gidwani had deposed before the Adarsh commission that Shinde had asked for inclusion of Khankhoje as member. Khankhoje's son Kiran told the commission that his father had not mentioned anything about the Adarsh flat in his will. The CBI should be asked to look into the relations between the Khankhoje family and Shinde," Wategaonkar argued.
He added that the Enforcement Directorate should also be asked to look into the money trail. The CBI counsel Hiten Venegaonkar told the court that the agency was still investigating into the benami transactions of all the 103 members of the society.
A division bench of Justices P V Hardas and P N Deshmukh then said it would hear this application only after the investigations are over. "Since the investigation is pending we will keep this application also pending," the court, said adjourning the matter to November 26.
Earlier, the CBI, in its affidavit in reply to the application, had given a clean chit to Shinde and said there was not sufficient evidence to show that he misused his official position. Meanwhile, the court asked the CBI to file an affidavit in reply to an application filed by former journalist Ketan Tirodkar alleging that certain people are influencing the probe into benami transactions.
"There are several flats purchased by persons who are frontmen for a cabinet minister of Maharashtra. Since long the CBI has been sitting on several discoveries made by them during probe but has not initiated any action. The reason behind this is influence by someone," the application states.
The housing society has been embroiled in the scam for alleged irregularities. In January 2011, a two-member commission was set up by the Maharashtra government to inquire into the scam. Its mandate was to look into several aspects including ownership of the land where the building stands, whether it was reserved for families of Kargil war heroes, and whether rules were flouted while granting permissions for the construction.
The commission's interim report in last April has said that land belonged to the state government and not the defence ministry, nor was it reserved for war widows.