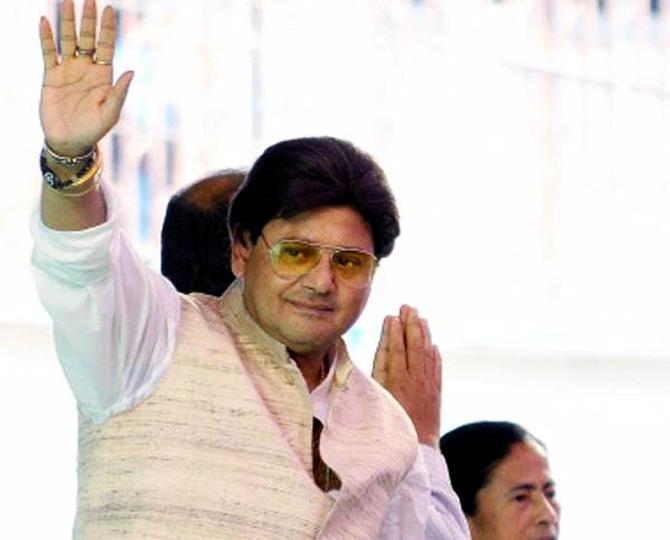 A referee judge of the Calcutta High Court on Tuesday extended a stay on execution of an order of filing FIR against Trinamool Congress MP Tapas Pal for his alleged insensitive comments against women.
The matter had been referred to Justice Nishita Mahtre following a split verdict by a division bench that heard an appeal on the matter.
Justice Mahtre also fixed the matter for hearing on September 10, while extending the stay till September 19.
A division bench comprising justices Girish Gupta and T Chakraborty had on August 13 given a split verdict on appeals against a single bench order that directed filing of FIR and a CID probe into the Trinamool Congress MP's 'shoot and rape' comments.
The matter was then referred to the third judge Justice Mahtre, nominated by Chief Justice Manjula Chellur, for deciding on points of difference between the two judges.
Justice Gupta had set aside Justice Dipankar Dutta's order on filing FIR while Justice Chakrabarty differed and dismissed appeals of both West Bengal government and Tapas Pal challenging it.
Justice Gupta had directed the state government to hold an investigation into the incident on its own as he set aside the order of the single bench on filing of an FIR against the two-time Lok Sabha MP from Krishnagar.

Justice Dutta, in his verdict on July 28 on a petition seeking CID investigation into Pal's comments against women and other opposition party supporters at election rallies, had also made caustic observations about the state's law and order and the role of police.
He had directed that the high court would monitor the probe in view of West Bengal government's stand that the complaint did not disclose any cognisable offence.
Justice Dutta in his order had directed inspector-in-charge of Nakashipara Police Station in Nadia district to treat the July one complaint by petitioner Biplab Chowdhury as an FIR.
Pal, whose controversial remarks against women had sparked an outrage, on July 1 tendered an unconditional apology to his party, saying that in making such comments he had let down his constituency and the people of Bengal.
"Some remarks made by me in the heat and dust of the election campaign (2014 Low Sabha polls) have caused dismay and consternation. I apologise unreservedly for them," Pal said in a written apology after a huge controversy broke out following airing of the video of his outburst at public meetings in his constituency.