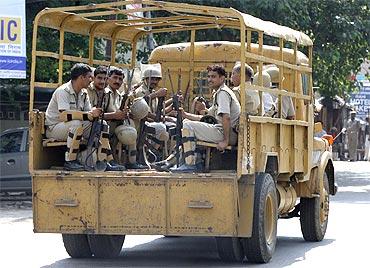 The Delhi high court on Friday sought response of 16 policemen acquitted of murder charges and other crimes by a trial court in the 1987 Hashimpura massacre case.
A bench of Justices G S Sistani and Sangita Dhingra Sehgal issued notice to 16 cops on the Uttar Pradesh government's plea against the trial court verdict.
"Issue notice to all the respondents. They are directed to file their reply on July 21," it said.
Earlier, the court had also issued notice for July 21 to the UP government and the accused on a plea filed by the victims of the massacre and National Human Rights Commission which sought ordering of a further probe into the matter.
The UP government had approached the high court last week against the order in which the policemen were held not guilty of the charges of murder, attempt to murder, tampering with evidence and conspiracy in the massacre case in which 42 people were killed in Meerut city.
The government, in its appeal, said that there are "lapses" in the trial court's findings.
On March 21, a trial court gave the benefit of doubt and acquitted 16 ex-Provincial Armed Constabulary personnel accused of killing 42 people in Meerut, saying lack of evidence failed to establish their identification in the case.
Those acquitted in the case were Suresh Chand Sharma, Niranjan Lal, Kamal Singh, Budhi Singh, Basant Ballab, Kunwar Pal Singh, Budha Singh, Rambir Singh, Leela Dhar, Hambir Singh, Mokam Singh, Shami Ullaha, Sarwan Kumar, Jaipal Singh, Mahesh Prasad and Ram Dhayan.
According to the prosecution, PAC personnel had come to village Hashimpura on May 22, 1987, and picked up about 50 Muslims as a congregation of 500 had gathered outside a mosque there.
The victims were shot by the accused personnel and their bodies thrown into a canal, it had said, adding 42 persons were declared to have perished in the massacre.
The charge sheet was filed before the chief judicial magistrate, Ghaziabad, in 1996.
19 people were named as accused and charges for offences of murder, attempt to murder, tampering with evidence and conspiracy were framed against 17 of them by the court in New Delhi in 2006 after the case was transferred to Delhi on a Supreme Court direction in September 2002.
The 16 accused acquitted in the case are still alive. Three others died during the trial.