Prince Harry on Tuesday became the first senior British royal to give evidence in a high court trial in over 100 years as he appeared in the witness box in London to allege "utterly vile" unlawful information gathering, including by phone hacking, by journalists working for the Mirror Group Newspapers (MGN).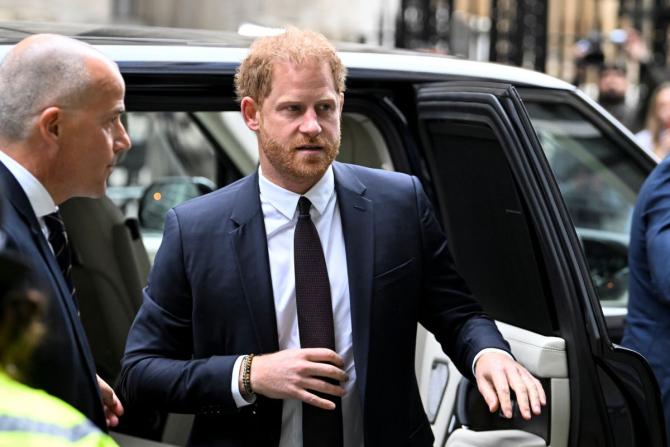 The 38-year-old duke of Sussex accused the tabloid newspapers of "inciting hatred" against him as a young royal and casting him as a "thicko", "cheat", "underage drinker", and "irresponsible drug taker" -- referring to some of the media labels he felt associated with over the years.
"I genuinely feel that in every relationship that I've ever had -- be that with friends, girlfriends, with family or with the army -- there's always been a third party involved, namely the tabloid press," reads his witness statement released as Harry gave oral evidence in court.
"As a teenager and in my early twenties, I ended up feeling as though I was playing up to a lot of the headlines and stereotypes that they wanted to pin on me mainly because I thought that, if they are printing this rubbish about me and people were believing it, I may as well 'do the crime', so to speak," he said.
"It was a downward spiral, whereby the tabloids would constantly try and coax me, a 'damaged' young man, into doing something stupid that would make a good story and sell lots of newspapers. Looking back on it now, such behaviour on their part is utterly vile," he added.
The royal said he decided to go to the court to hold people to account for what they have done and that he was "determined to get to the bottom of it once and for all".
Harry, who stepped back as a working royal and now lives in the US with his wife Meghan Markle and two children Archie and Lilibet, has said that the deceptive methods used by MGN newspapers impacted his personal life.
He alleges that the Daily Mirror, Sunday Mirror, and Sunday People were linked to methods including phone hacking, so-called "blagging" or gaining information by deception, and use of private investigators, between 1996 and 2010 to get detailed information about his private affairs.
MGN disputes the allegations and also argued that some of the claimants who are part of the representative legal action have brought their case too late. Their lawyers are expected to cross-examine Prince Harry in the witness box this week.
Meanwhile, the royal's lawyer on Monday told the hearing as it opened that Mirror journalists listened to voicemail messages from Princess Diana -- Harry's late mother.
"Nothing was sacrosanct or out of bounds and there was no protection from this unlawful information gathering," David Sherborne told the court, alleging that the ups and downs of Harry's relationship with ex-girlfriend Chelsy Davy were among those gained via unlawful means.
The British prince alleges around 140 articles published between 1996 and 2010 contained information gathered using unlawful methods and, according to court reports, 33 of these have been selected to be considered at the trial.
Justice Timothy Fancourt, who is presiding over the trial at the Royal Courts of Justice in London, had expressed "surprise" that Harry was not in court at the start of the trial but was told that he had flown in from Los Angeles only on Sunday night as it was daughter Princess Lilibet's second birthday on June 4.
The last time a senior royal took to the witness stand in an English high court trial was in 1891 when the then Prince of Wales was called to give evidence in a gambling case dubbed the Royal Baccarat Scandal.
At the time, the future King Edward VII was brought to court to give testimony over a tricky case of cheating in a game of cards that the royal happened to be present at.