Prince Harry has made a shocking revelation in his upcoming autobiography that his brother Prince William 'knocked' him to the floor during an argument over his American wife Meghan Markle, according to a media report.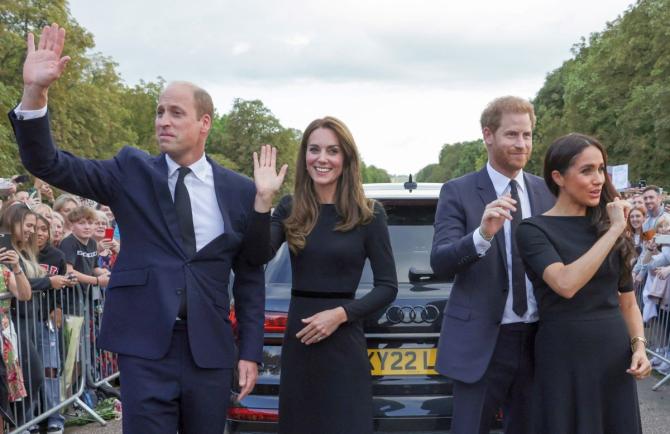 Describing a confrontation at his London home in 2019, Harry says William called Meghan 'difficult', 'rude' and 'abrasive', which Harry calls a 'parrot (ing of) the press narrative' about his American wife, according to the Guardian, which says it has seen a copy of the duke's memoir Spare.
The confrontation escalated, Harry writes, until William 'grabbed me by the collar, ripping my necklace, and -- knocked me to the floor', the paper says.
The extraordinary scene, which Harry says resulted in visible injury to his back, is one of many in the book, which will be published worldwide next week.
The book is likely to spark a serious furore for the British royal family.
The Kensington Palace said it 'has no comment to make'.
The book's title comes from an old saying in royal and aristocratic circles: that a first son is an heir to titles, power and fortune, and a second is, therefore, a spare, should anything happen to the first-born, the report added.
Spare is a remarkable volume, in which the altercation between the two princes forms a startling passage.
Harry, 38, writes that William, 40, wanted to talk about 'the whole rolling catastrophe' of their relationship and struggles with the press.
After William complained about Meghan, Harry told him he was repeating the press narrative and that he expected better. But William, Harry says, was not being rational, leading to the two men shouting over each other.
Harry then accused his brother of acting like an heir, unable to understand why his younger brother was not content to be a spare.
Harry met Meghan in 2016. They married at Windsor Castle in 2018.
As Duke and Duchess of Sussex, they began life as working royals but quickly drifted apart from the family and eventually embarked on a largely separate existence, moving to Canada and then California.
Their split from the royal family has been the subject of endless press coverage, including via a famous interview with Oprah Winfrey in 2021 that caused huge controversy.
Harry also said that William urged him to hit back but he refused to do so and later William returned 'looking regretful, and apologised'.
Harry's resentment of being the 'spare' is the unifying theme of his book, through chapters on his childhood, his schooling, his career as a royal and in the British army, his relationship with his parents and brother and his life with Meghan through courtship, wedding and marriage to their own experience of parenthood.