The LUH will be one of the two helicopters that will meet the army's urgent need for 394 light helicopters.
Ajai Shukla reports.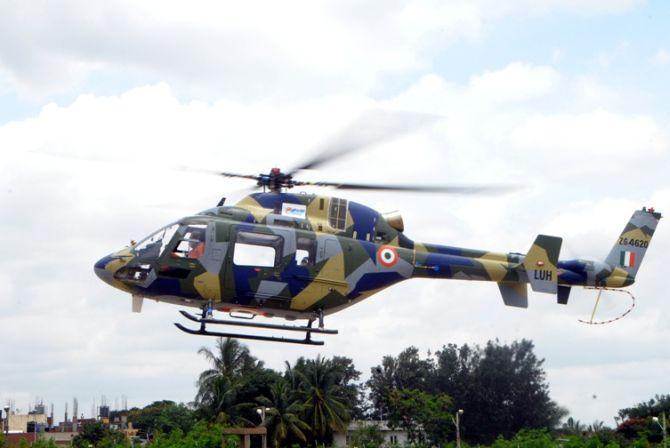 In a major breakthrough for its indigenous helicopter programme, Hindustan Aeronautics was awarded initial operational clearance for its newest helicopter -- the eponymous light utility helicopter.
The LUH is a helicopter that HAL developed to replace the army's and air force's obsolescent fleet of Cheetah and Chetak helicopters.
HAL was handed over the initial operational clearance in the presence of Defence Minister Rajnath Singh and Uttar Pradesh Chief Minister Yogi Adityanath.
This certification, issued by the Centre for Military Airworthiness, brings the LUH much closer to being manufactured in large numbers.
In December 2018, the LUH passed an important landmark, flying to a height of 20,000 feet in the Ladakh sector.
The three LUH prototypes have completed over 550 test flights, including under the most demanding terrain and climatic conditions.
This extreme performance is deemed essential for the LUH, which will be required to supply provisions to, and evacuate casualties from, posts like the 20,997 feet-high Sonam Post above the Siachen Glacier -- the highest inhabited spot on the planet.
The LUH will be one of the two helicopters that will meet the army's urgent need for 394 light helicopters.
A joint venture between HAL and Russian Helicopters will build 197 Kamov-226Ts to meet the military's urgent requirements.
Separately, HAL will manufacture 187 LUHs which includes 126 for the army and 61 for the IAF.
For building the Kamov-226T in India, the central government signed an inter-governmental agreement with Russia. This did away with the need for competitive tendering.
For building the LUH in larger numbers, HAL is looking beyond purely military orders, that is, at the civil and export markets as well.
After the prototype's rigorous flight-test programme, the visitors at Defexpo 2020 got a chance to view the LUH, which is participating in flying display as well as static display.
Now, with the IOC recognising performance of the LUH in all terrains and under all weather conditions, HAL will now start integrating and flight testing the LUH's mission and specialised role equipment, says Arup Chatterjee, HAL's design chief.
The LUH is powered by a single Shakti engine, which HAL designed in partnership with French engine-maker Safran.
Now built in India, the Shakti engine also powers three other HAL-built helicopters: The Dhruv, an armed Dhruv variant called Rudra, and the light combat helicopter, which is close to being accepted into service.
HAL states that the LUH will have a top speed of 220 kilometres per hour, a service ceiling of 6,500 metres and a range of 350 kilometres with a 400 kilogramme payload.
The helicopter will perform the roles of reconnaissance and surveillance, high-altitude casualty evacuation and as a light transport helicopter.