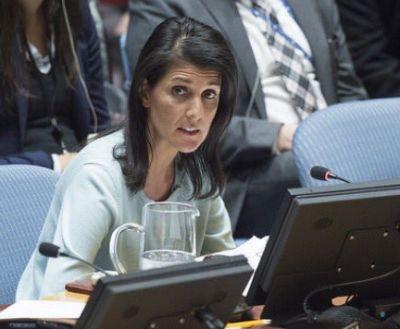 Condemning Russia's aggressive actions in Ukraine, United States Ambassador to the United Nations Nikki Haley on Friday used her inaugural speech at Security Council to warn Moscow against escalation of violence there and made it clear that sanctions on Moscow would remain in place until it withdraws from Crimea.
"I consider it unfortunate that the occasion of my first appearance is one in which I must condemn the aggressive actions of Russia," Indian-American Haley said.
"It is unfortunate because it is a replay of too many instances over many years in which United States representatives have had to do that," she said.
During her Senate confirmation hearing last month, Haley also expressed support for continuing the sanctions and accused Russia of committing war crimes in the Syrian conflict.
But her strong criticism of the government of President Vladimir Putin put her at odds with President Trump, who has expressed a desire for warmer relations with Russia.
Haley today said the US wants to improve its relationship with Russia but 'the dire situation in eastern Ukraine is one that demands clear and strong condemnation of Russian actions'.
"This escalation of violence must stop," Haley warned.
"Crimea is a part of Ukraine. Our Crimea-related sanctions will remain in place until Russia returns control over the peninsula to Ukraine," she said.
"The United States stands with the people of Ukraine who have suffered for nearly three years under Russian occupation and military intervention. Until Russia and the separatists it supports respect Ukraine's sovereignty and territorial integrity, this crisis will continue," she said.
Haley was speaking at an emergency UN meeting about a sudden upsurge in violence in eastern Ukraine, where Russian-backed separatists have been fighting the Ukrainian army.
Despite Haley's strong criticism, Russian Ambassador Vitaly Churkin said he detected a change in tone.
"It's just the beginning of the road and hopefully the road will lead to something more constructive," he said.
As a presidential candidate, Trump had hinted he might recognise Russia's annexation of Crimea.
Trump's refusal to condemn Russian hacking during the election raised questions about his ties to Russia.
Photograph: @nikkihaley/ Twitter