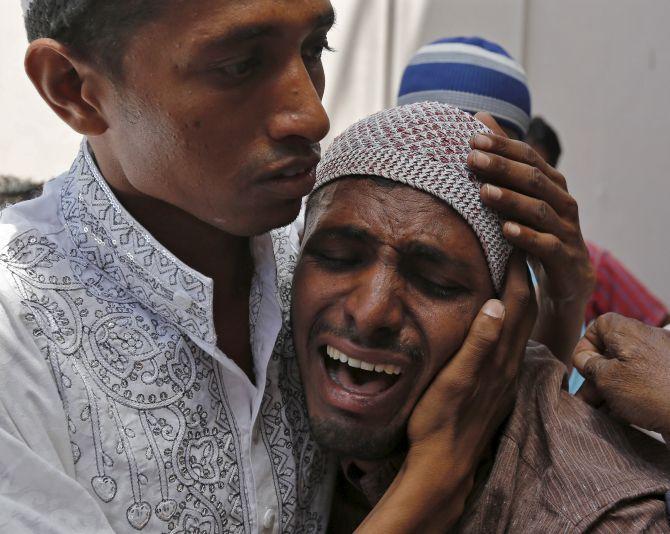 The death toll of Indian pilgrims in the horrific stampede during Hajj rose to 22 on Saturday as Saudi Arabia grappled to come to terms with the worst tragedy to hit the annual pilgrimage in 25 years that has claimed 719 lives so far.
"Our officials on the ground in Mecca have been working continuously to ascertain information and reach out to family members of missing pilgrims. According to the latest information, 22 Indians have died in the tragedy," external affairs ministry spokesperson Vikas Swarup said. "Our mission is working with Saudi authorities and family members to confirm the identities of the deceased and expedite formalities for release of the mortal remains," he said.
Of the Indians killed, 11 were from Gujarat, three from Tamil Nadu and one each from Telangana, Kerala, Jharkhand and Uttar Pradesh.
At least 13 Indians were also among the over 863 people injured in the tragedy.
As Muslim pilgrims sombrely resumed the final rites of Hajj on Friday, Saudi Arabia's King Salman ordered a safety review and a "revision" of the Hajj organisation.
Leading the criticism against Saudi Arabia, its regional rival Iran expressed indignation at the deaths of 131 of its nationals at the world's largest annual gathering of people.
Iranian President Hassan Rouhani in New York questioned whether the Saudi government could be trusted with the responsibility of overseeing the hajj.
Meanwhile, Saudi Health Minister Khalid al-Falih said the stampede "was perhaps because some pilgrims moved without following instructions by the relevant authorities.
King Salman ordered the formation of a committee to probe the incident during the five-day pilgrimage in which around two million people from more than 180 countries took part. From India, 1.5 lakh pilgrims performed Hajj.
Hajj is one of the five pillars of Islam that should be performed at least once in a lifetime by every Muslim who is financially and physically capable.
The stampede broke out after two massive lines of pilgrims converged on each other from different directions at an intersection close to the five-storey JamaratBridge in Mina for symbolic stoning of the devil.
It was the second major accident this year for pilgrims, after a construction crane collapsed on September 11 at Mecca's Grand Mosque, Islam's holiest site, killing over 100 people, including many foreigners.
The Saudi civil defence authority said 719 pilgrims from different nationalities were killed in the stampede.
Image: A man weeps after getting the news of his family members, who died in Thursday's stampede in Mina, at their residence in Ahmedabad, India. Photograph: Amit Dave/Reuters