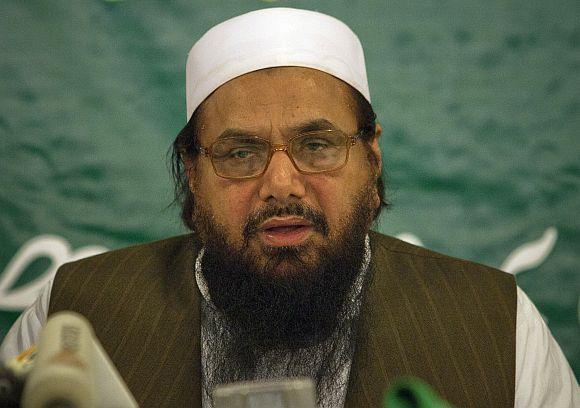 Amid pressure on Pakistan from the Trump administration, Mumbai attack mastermind and Jammat-ud-Dawa chief Hafiz Saeed and four others were tonight put under detention in Lahore in Punjab Province.
Punjab government's Home Department issued the detention order of Saeed and Lahore Police reached JuD headquarters in Chauburji to implement the order, JuD said.
He 'is at Masjid-e-Qadsia Chauburji and a heavy contingent of police has surrounded the JuD headquarters', JuD official Ahmed Nadeem, who was present at the premises of the outfit, told PTI on phone.
"The commanding police officer told us that he has with him the house arrest order of the JuD chief issued by the Punjab Home Department," Nadeem said.
Three days ago, Punjab's Ministry of Interior had included names of Saeed and four others -- Abdullah Ubaid, Zafar Iqbal, Abdur Rehman Abid and Qazi Kashif Niaz – in the Watch List as per UNSC 1267 Sanctions and ordered their preventive detention.
Ubaid, Iqbal, Abid and Niaz were also also taken into preventive custody.
Punjab government's action comes amidst pressure on Pakistan from the Trump administration that it must take action against JuD and Saeed to avoid sanctions.
JuD is the front for the banned Lashkar-e-Tayyaba terror outfit which is responsible for numerous terror attacks in India, including the Mumbai terror strike of November 26, 2008, which was masterminded by Saeed.
The Ministry of Interior, in its January 27 order, has 'placed Falah-e-Insaniat Foundation (FIF) and Jamaat-Ud-Dawa (JUD) on the Watch List and have listed these organisations in the Second Schedule of the ATA 1997 (as amended)'.
'Hafiz Muhammad Saeed, Abdullah Ubaid, Zafar Iqbal, Abdur Rehman Abid and Qazi Kashif Niaz are reportedly active members of the aforementioned organizations within the meaning of Section 11EEE(1) of the ATA 1997 (as amended). As such, they must be placed under preventive detention,' Pakistani media reported.
The notification asked the home secretary to 'kindly direct the concerned agencies to move and take necessary action' as the matter 'is most urgent'.
Earlier during the day, Interior Minister Chaudhry Nisar Ali Khan said the government was taking steps to 'fulfil our obligations' with regard to JuD.
"The organisation [JuD] has been 'under observation' since 2010-11. Since it has also been listed by the UN Security Council [Sanctions Committee], we are bound to take some steps. We are taking those steps to fulfill our obligations," he told reporters after inaugurating a passport office in Islamabad.
JuD has already been declared as a foreign terrorist organisation by the United States in June 2014.
Saeed also carries a reward of $10 million announced by the US for his role in terror activities.