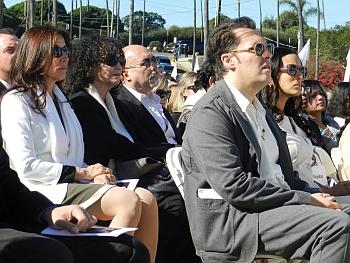 Family, students, fans and friends pay tribute to the legend of Pandit Ravi Shankar
'Just do music' said guruji, and I am here today just because of him. There was a point in my life when I was not able to decide on my career and guruji guided me to be an artist. I knew him well and I feel lucky I got an opportunity to be able to talk to him one on one on many occasions. He has been a huge part of my life for the past 10 years.
He shared a wonderful relationship with Anoushka Shankar and Norah Jones. He had a great sense of humor and he made everyone smile. He used to joke a lot. He would take any topic and make a joke. He used to laugh and make people laugh as well. I just wish I do him proud.
-- Pirashanna Thevarajah, the mridangam player who has performed with Ravi Shankar and Anoushka flew in from London to attend the memorial
We had a good relationship and I was close to him. Specially in the later years when he was here, I saw him a lot more. I went to his last concert in Long Beach. He loved his grand children.
-- Linda Shankar
Widow of Shubho Shankar, Ravi Shankar's only son
I was 17, young and used to go surfing with my friends at the famous Swami Beach that has stairs, which go through the Self-Realisation Fellowship Center. We were so fond of his music and were crazy; you can say that my friends were crazy and would visit the ashram.
His concert at the Monterey Jazz festival and the Beatles... oh, he was so good. It was an era. He was a messenger of world peace. He came in an era after the Vietnam War. We young people wanted peace, world peace, calmness and his music offered that to many.

--Delanna Harrig, a 62-year-old Encinitas resident and a fan
I am so privileged to be in his family. I am glad he gave not just to us, but the whole world the Indian music. Without him it wouldn't have come this far. I was lucky, I was at his concert at the Long Beach, California, where he arrived in a wheelchair with oxygen tanks and mesmerised the audience with his music.
He was mischievous. When he met my mother he was 20 and my mother was 14. They both used to dance in Uday Shankar's troupe. Sometimes he would have his back to the audience while facing other dancers. He would make faces at them during the stage performance to make them laugh.
-- Kumar Shankar, nephew
I have known him for 72 years. I was at his center and then became sister-in-law and we were co-dancers. I took part in all his musical projects and we were very very close. Ravi Shankar was very classical minded, but very broad minded.
Every moment with him was a learning moment. Whether it was music, or world politics, he was knowledgeable. I do not think there will be anybody like him in the future. He was not only a sitar player, he was a great musician, a great man.
He is immortal like his music. He is like Swami Vivekananda. His name will never die. He has enjoyed life to the fullest. I am not worried about the legacy, but I am worried what shape it will take.
— Lakshmi Shankar, a Hindustani classical vocalist, she started her journey with Panditji when she was 14. She later married his brother Rajendra Shankar
It was not just music, he was a complete man. Even though he was a well-travelled gentleman, the curiosity was always there. I remember cooking hilsa and rohu fish for him. We have a Bangladeshi store in Artesia, from where I would buy fish, cook it, before visiting Raviji.
 -- Mitali Das, a family friend
I used to drive him to different concerts, and it was great to be in his presence and to just feel his love. You could feel in the car his deep preparation for each concert. The meditative state and depth of feeling was generated long before he was on stage and that was incredible.
-- Sanjay Rawal, a friend who came from New York
He was such a great man and would not hesitate to ask small things. He used to ask me what is Quantum Theory and why do we call it quantum. He used to say India still needs to come up to its stature. It still has to improve a lot in all fields. Though he was here, he was well-updated about India.
-- Lalit Das, a family friend of 20 years
As told to Ritu Jha