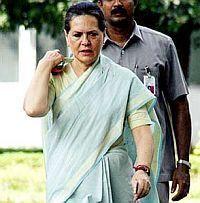 Sharpening her attack on Narendra Modi government's 'anti-people' policies in Gujarat,
Congress chief Sonia Gandhi on Monday accused it of indulging in 'hera-pheri' (wrong-doings) with Central funds.
"The United Progressive Alliance government has given sufficient funds for several schemes on agriculture, development, water harvesting and land improvement projects to the state," she told an election rally in this town of Patan district in north Gujarat.

"According to news reports, 'hera-pheri' (wrong-doings) are going on (in Gujarat). We have known about the Comptroller and Auditor General reports (talking about corruption). There is large-scale corruption in Gujarat," Gandhi said, days ahead of first phase of assembly polls.
"Sixteen per cent of the funds we have released under Jawaharlal Nehru National Urban Renewal Mission for Gujarat had been spent in only one constituency of Gujarat. I don't need to name this assembly constituency, as you all very well know...You tell me that isn't gross injustice to the other parts of the state?" she asked. 
Gandhi was apparently referring to the Maninagar constituency in Ahmedabad city from where Modi is contesting the elections.
The Congress chief during the poll campaign earlier had slammed the tall development claims of the state government, saying that it is nowhere to be seen as promises made by the government were "hollow and false".
On Monday, she accused the state government of adopting anti-people policies.   "The UPA government had waived loans of farmers, besides giving them other facilities, then why the farmers in Gujarat are still under debt...The answer to this question is explicit...The policies of the Gujarat government are 'jan virodhi' (anti-people)," Gandhi said.
On the law and order situation in the state, she said, "Due to pathetic law and order situation, people are feeling unsafe. We will have to bring about a change in that".


Polling in Gujarat will be held in two phases on December 13 and 17. "The UPA government has given a lot of money to your state for development works, because it is the right of the people of Gujarat," Gandhi said.
"But, with this I also want to tell you that when BJP-led NDA government was in power at the Centre then in comparison to the United Progressive Alliance, your state was getting 50 per cent lesser funds," she said.


In a scathing attack on the state government, she said, "The Centre every year gives Gujarat 3148 MWs of power under Rajiv Gandhi Vidyutikaran Yojana...But the government here has sold it at higher rates...and are you all aware how much electricity is being sold... 833 MW power is being sold."
The Congress president said, "I want to ask that despite so much of the Centre's assistance, 4.5 lakh farmers of the state still do not have electricity connection...What is the reason...What is the reason that in Gujarat, 57 taluks are still dark.


"This BJP government by imposing highest VAT in the country is earning crores of rupees....Despite this why 41 per cent children here are malnourished ...Why in Gujarat only 8 per cent families have been able to come out of below poverty line," she asked.


"Why even today more than 10 lakh youths are unemployed here, why educated policemen and other government employees have fallen victim to exploitation in the name of fixed pay," she said.
"They have their own people...a select few people...to pass on benefits...a few close industrialists...there is no shortage of money...they have huge money with them, but for
deprived and needy people of Gujarat they don't have money.. there is always shortage of money," Gandhi alleged.