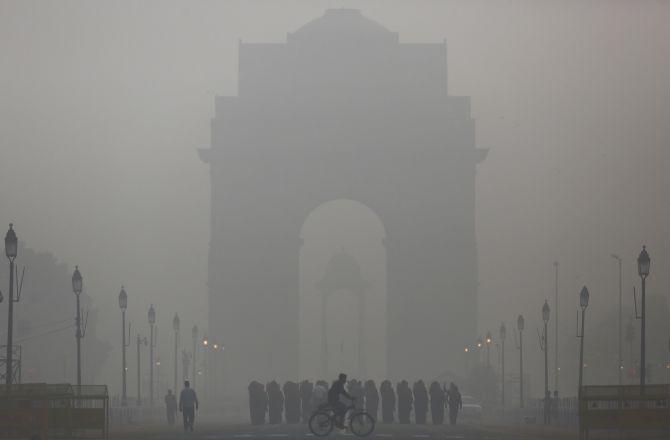 The Badarpur power plant has been shut, diesel generators banned, hundreds of brick kilns ordered to stop production, and if the air quality worsens, Delhiites may have to shell out more as parking fee, possibly four times the current amount.
The Supreme Court-appointed Environment Pollution Prevention and Control Authority, a body empowered to enforce the Graded Response Action Plan under which these steps have been taken, made it clear that if needed it will not hesitate to enforce the 'odd-even' plan, order cars off roads, and shut schools.
Measures under the GRAP's 'very poor' and 'severe' categories came into effect on Tuesday, and they will remain in force till March 15, the EPCA announced following a review meeting chaired by its chief Bhure Lal, a former IAS officer.
EPCA member Sunita Narain said while the GRAP proposes a hike in parking fee under its 'very poor' segment, it cannot be immediately implemented as the Delhi government's parking policy has not yet been finalised.
But she indicated that the EPCA will enforce the measure if pollution levels show any rapid spike, even if a formal policy is not in place.
Only those brick kilns, which have implemented the zigzag technology that helps reduce black carbon emission, have been allowed to function, Bhure Lal said.
Essential services such as the Delhi Metro and hospitals in the city, which depend on diesel-generator sets, will also be exempted.
Narain said measures such as the 'odd-even' car rationing policy -- under which private vehicles are allowed on roads based on the last digits of license plates -- or closure of schools will be taken only as a last resort under the emergency segment of the action plan.
"However, we are trying to ensure that we do not reach a health emergency like last year, which may force us to shut the city," she said.
Power officials said the closure of the Badarpur plant, which used to supply around 400 MW electricity to discoms, will not have any impact on Delhi as the city has surplus power.
CPCB wanted it to be closed by September, but it could not be done as the Jawaharlal Nehru Stadium, which hosted matches of the U-17 FIFA World Cup, drew electricity from the plant.
The EPCA said the two other thermal power plants in the region, at Dadri and Jhajjar, will also have to be shut if pollution reaches emergency levels and also directed that Bawana gas-based plant be run at full capacity.
The set of actions, which will kick in if the air quality aggravates, include closure of hot mix plants functioning in Haryana and Uttar Pradesh, stone crushers in Haryana and Rajasthan, and industries using Furnace Oil and Pet Coke, which are rich in Sulphur, across the region.
Under the GRAP, measures under 'very poor' and 'severe' categories are rolled out when levels of PM2.5 are between 121-250 micrograms per cubic metre (µg/m3) and above 250 µg/m3 respectively. PM10 levels have to be between 351-430 µg/m3 PM10 levels add above 430 µg/m3 respectively.
The 24-hour-average safe standards of PM2.5 and PM10 are 60 and 100 respectively and anything beyond that can harm living beings as these pollutants measure up to 30 times tinier than the width of a human hair.
The severe plus or the emergency action plan under GRAP, which proposes a ban on construction activities, odd-even scheme, ban on entry of trucks and closure of schools, shall come into force when PM2.5 levels cross 300 µg/m3 or PM10 levels cross 500 µg/m3 (five times above the standard level) and persist for 48 hours or more.
Photograph: PTI Photo