'For the government, statehood is one of the end-points of the journey. A vast distance has to be traversed to reach there. There are many turns on the road, some resting points, and possibly, many cul-de-sacs.'
Aditi Phadnis reports.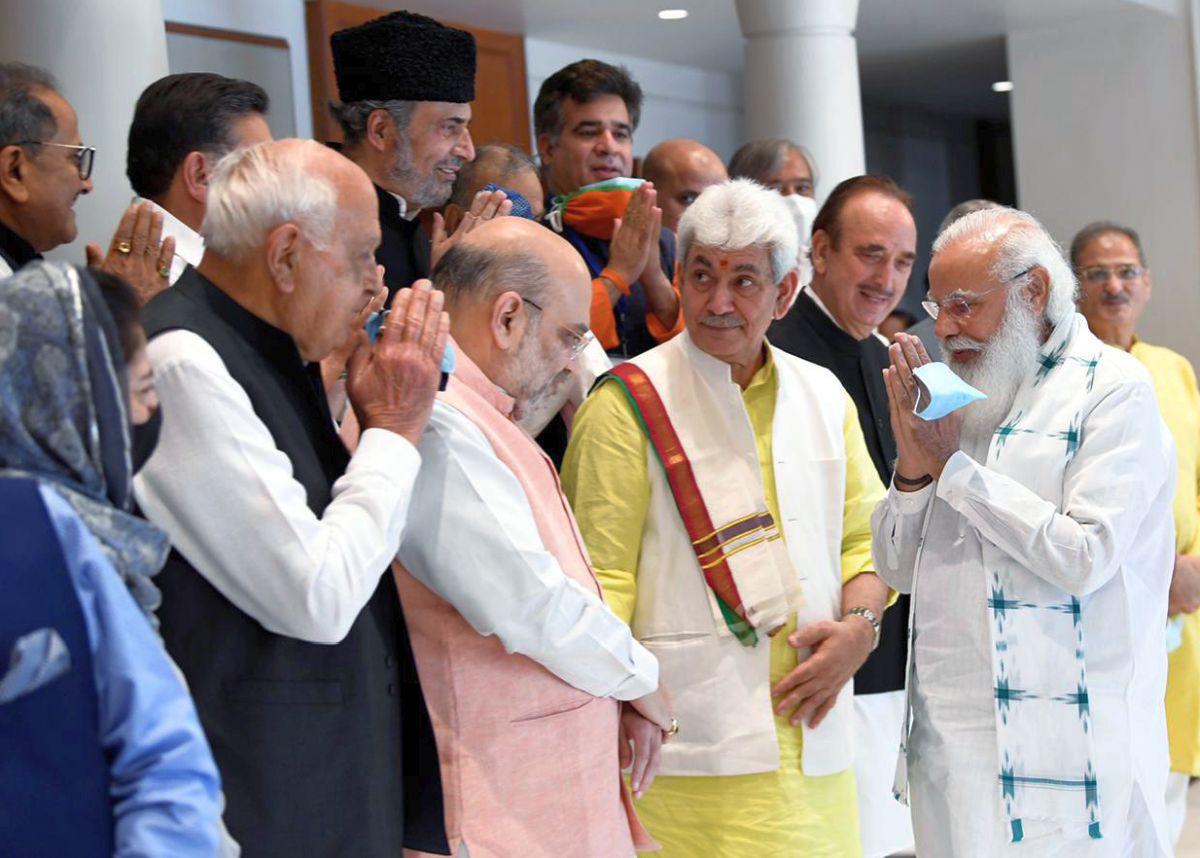 Days after the meeting between Prime Minister Narendra Modi and leaders of 14 Jammu and Kashmir parties, the administration of the Union territory believes a new 'known unknown' has entered politics of the region: A visible dismantling of previously entrenched interests and new challenges to all political forces that will require fresh thinking on their part, addressing ways to a better quality of life.
A source close to Lieutenant Governor Manoj Sinha told Business Standard that if political leaders in Jammu and the Valley alike were expecting statehood in the next few weeks, they were mistaken.
"For the (central) government, statehood is one of the end-points of the journey. A vast distance has to be traversed to reach there. There are many turns on the road, some resting points, and possibly, many cul-de-sacs (passages closed at one end). Figuring out a route is the challenge (for political forces), the source said.
For its part, the administration is doing what it can and what lies within its ambit to improve the quality of life in the new incarnation of the UT.
"The objective is to see that governance and accountability percolates to the lowest level of the administration. We're sincere about achieving this goal," the source said.
To that end, last year, the administration announced a Jammu and Kashmir health scheme intended to provide universal health insurance cover to all its residents at an estimated annual cost of Rs 123 crore.
The scheme will provide health insurance cover free to all residents of Jammu and Kashmir.
Around 500,000 people are already covered under the AB-PMJAY or Ayushman Bharat Pradhan Mantri Jan Arogya Yojana and this new scheme will cover the rest and will apply to life-threatening diseases or ailments like cancer, kidney failure, and Covid-19.
A survey to determine eligible families was launched in 2020.
This is complete and residents are already availing of the scheme which has an element of portability.
Once registered, citizens can avail it in any empanelled hospital in India.
The Ujjwala scheme for providing subsidised gas cylinders and stoves, which has proved such a hit in the rest of India, is also available -- not just to Jammu but also to the Valley and areas torn by insurgency.
In fact, vigilant citizens have themselves reported subsidy violations by gas agencies and a host of raids have led to cases against some of them after it was found the subsidised cylinders were being diverted to commercial establishments.
"The short point of all this is that we have rolled out many schemes that applied to J&K even earlier but were simply not available to citizens. We want to leverage the gains of all these schemes," said an administration official.
But nothing in J&K is ever as simple as it looks.
Residents are always fearful that if they accept New Delhi's support, especially in areas like Sopore and Baramulla, they are likely to fall foul of Pakistan-funded insurgents.
This can be over something as basic as a scheme for gas cylinders; or concerns that delimitation will alter the demographic profile of the region, and must be resisted.
"The delimitation exercise will be carried out with complete honesty. The intention is not to change the character of the state," another source said.
Sources also say that security forces are now confident that 200 or so insurgents can be limited to a small geographical area and eventually, captured. "This fear of Pakistan has to go."
The administration has another compulsion: It wants to consolidate its gains and act fast while Pakistan has its eyes on other issues.
Kashmir is low down on Pakistan's list of concerns right now, which is topped by the imminent pullout of United States forces from Afghanistan in September, the formation of a government dominated by the Taliban and the resultant geopolitical upheaval this will cause in Pakistan.
Its second-biggest concern is the action of the Financial Action Task Force that can put a further squeeze on foreign investments in the country.
"There is no realistic expectation here that India will roll back the status of Kashmir," says Kamal Siddiqi, director of the Centre for Excellence in Journalism at the Institute of Business Administration in Karachi.
On the list of Pakistan's top 10 geopolitical priorities, Kashmir would be at number 4.
With all this, the J&K administration believes it's time that it sent a signal to political forces in the Valley, as well as Jammu that the Centre is not going to stick to rigid positions.
It wants to give a route to political parties to use this flexibility to return to mainstream politics without losing face.
"But this should not be interpreted as weakness on our part. We're clear: It is one flag, one market, one India," an official said.