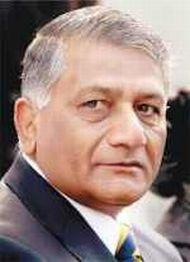 Union Home Minister Sushilkumar Shinde on Tuesday asked former army chief V K Singh to name Jammu and Kashmir politicians who were allegedly paid money by the army for "stability", saying if details are given the government was ready to probe.
"V K Singh should name politicians. He should reveal the names (of those to whom money was allegedly paid). If details are given, we can investigate," he told reporters on the sidelines of a function in New Delhi.
The Home Minister's remarks came in the wake of the retired general's statement that that "certain ministers" in the state are given money by the Army for "stability" and that this has been going on since Independence.
Singh, who is in the eye of the storm over reports that that attempts were made to topple the Jammu and Kashmir government during his tenure as the army chief, had said on Monday, the "Army transfers money to all the ministers in Jammu and Kashmir...because there are various things to be done and ministers have to do so many things as part of the stabilising factor in the state and for organising various activities."
Questioned whether all ministers are paid, he amended his statement, saying, "May be not all the ministers but certain ministers and people who are given a certain sum to get a particular thing done. That job involves bringing stability to a particular area."
Farooq demands CBI probe
Meanwhile, National Conference leader Farooq Abdullah today demanded a CBI probe into the claim of the former army chief.
"I think it's a very, very terrible statement that he has made. It must be investigated. The army has nothing to do with funding of political parties. They should never do this. The army should be kept apolitical," the Union minister said in New Delhi, adding, "And if he has done that, he has done something extremely wrong."
Expressing concern, Abdullah said, "I think time has come when a CBI inquiry should be held immediately to see what is the funding that the army has done and who are the people that received these funds and how these funds have been utilised."
Abdullah said, "I feel extremely sad that the army has utilised money for political purposes which is extremely bad for the nation."
Image: Former Army Chief General V K Singh