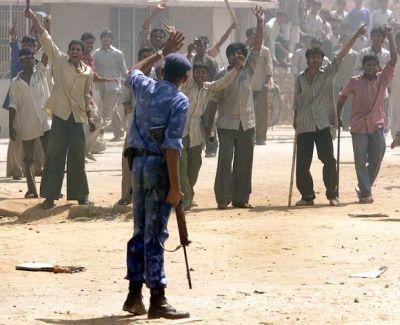 Setting aside the trial court order acquitting the accused, the Gujarat high court on Thursday sentenced eleven persons to life imprisonment for the murder of two persons during a 2002 post-Godhra riot at Meda Adraj village in Mehsana district.
A division bench of justices Anant Dave and B N Karia awarded the accused "life imprisonment with remission", allowing the state Government to release them after they have served 14 years.
The HC also imposed a fine of Rs 10,000 on each of them and granted them ten weeks to surrender.
Last month, the high court had held 11 out of the 27 accused guilty for murdering a father-daughter duo from the minority community at Meda Adraj.
The eleven convicted persons are: Mukesh Amritlal Patel, Narendra Chimanlal Patel, Dinesh Jaswantbhai Patel, Kirit Somabhai Patel, Kirit Chandubhai Patel, Girish Ambalal Patel, Girish Chunnilal Patel, Mukesh Mahendrabhai Patel, Nilesh Naranbhai Patel, Janak Rameshbhai Patel and Mukesh Somabhai Patel.
They were convicted under sections 302 (murder), 148 and 149 (unlawful assembly) and 436 (mischief by fire) of the Indian Penal Code.
A fast-track court in Mehsana on June 14, 2005, acquitted all the 27 accused for killing Kalu Miyan Saiyed and his daughter Hasina Bibi on March 3, 2002, in the aftermath of train burning incident at Godhra in which 58 persons died.
According to the prosecution, a mob of around 200 people surrounded the victims who had taken shelter in the house of Joitaram Prajapati and burnt them alive. There were six eye-witnesses in the case.
The Gujarat government and the victims' family had challenged the trial court's verdict.