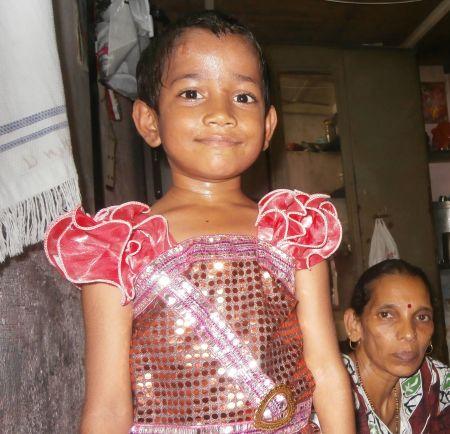 Lost in Mumbai, found in Srinagar.
Mukhtar Ahmad/Rediff.com and A Ganesh Nadar/Rediff.com report the amazing story of six-and-a-half-year-old Megha Thakur.
The floods which were the bane of much of the Kashmir valley in September proved a boon for six-and-a-half-year-old Mumbai girl.
Megha Thakur, who was found begging in tatters in Srinagar, was abandoned in the uptown Dalgate area of the city as flood waters submerged the state capital.
Through a stroke of luck the child found herself in the care of Abdul Rashid Sheikh and his family.
"We had been hit by the floods and we came back to our home a few days before Bakri Id. We came to know of a girl who had been abandoned by someone in the locality. I brought her to our home," Sheikh said.
"My daughters took her to the market a day before the Eid festival and we bought her new clothes. We enjoyed her company and she had become part of our family. We had a great time on Eid despite the floods," Sheikh added.
While talking to the child Sheikh was shocked to know that Megha hailed from the Bandra area in Mumbai and had been brought to Srinagar by a man named Nazir Ahmad a year ago and forced into the thriving beggar market in the city.
"My wife Dilshada and I decided to restore her to her family in Bandra," Sheikh said.
As the flood waters receded, the family began making efforts to locate Megha's family in Mumbai. "My nephew Parvez runs a cyber cafe in Dalgate. He took photographs and videos of Megha and posted them on social media. We also informed the local police station about her."
The police got in touch with their counterparts in Mumbai and began searching for Megha's family. Her family was located as they had lodged a missing person's report with the local police.
Abdul Rashid Sheikh (seated extreme left) along with this family.
"I thank Allah that I succeeded in restoring Megha to her family. I feel these floods were a blessing in disguise," Sheikh said.
Ramesh Thakur, Megha's paternal grandfather, along with a police team from Mumbai, traveled to Srinagar and took her back this week.
Thakur, who drives an autorickshaw in Mumbai, narrated how Megha had been abducted last year. "Megha's mother Seema is employed as a house maid. On June 5 last year, Seema had gone to work at around 9 am. That morning, Seema, who was exhausted, fell asleep by a building where she had finished work. Megha, who Seema always brought to work, was asleep next to her when someone abducted her," Thakur said.
"God brought her back because I prayed to him every single day to look after her and bring her back safely."
Megha, who seems fed up of narrating her story to journalists, simply says: "I will never go with a stranger again. I will not play outside. I will play only at home. I will stay near my dadi ma (grandmother). Can I go and play now?"
Megha smiles for the camera. Her smile hides the trauma this child faced, of being abducted, begging on the streets of Kashmir, escaping a flood, and coming back home.
Image: Megha Thakur in her home in Mumbai on Friday. Photograph: A Ganesh Nadar/Rediff.com