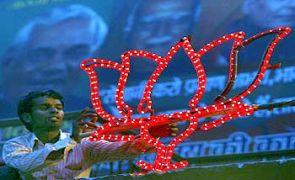 Bharatiya Janata Party attacked its former alliance partner Janata Dal-United for taking support of Congress in winning the trust vote in Bihar Assembly, saying that the "glue of corruption" has brought them together.
"After contesting elections against the Congress party, JD-U has again shown its colour in the present incarnation by being party to the conspiracy of the Congress party...because it is with the Congress support that they have actually come through in the Assembly today," BJP spokesperson Meenakshi Lekhi told reporters.
It is the glue of corruption that is keeping them together, she said.
The BJP spokesperson termed this as "moral" corruption of the Nitish Kumar government whom she charged of taking Congress' support in saving itself even though it had sought votes from the public by being against the same party.
Lekhi said after breaking the alliance with BJP, Nitish Kumar should have gone to the people to seek a fresh mandate instead in Bihar.
"If you had the courage, you should have gone to the public and sought a fresh mandate from the people," she said.
On the walkout by BJP during the trust vote, she said, "We knew that even after this government was going to stay... even after breaking the alliance and after various permutations and combinations. This is our opposition to the manner in which this particular government has chartered its course."
She said Nitish Kumar has got embroiled in the Congress's conspiracy and the Congress' support to the trust vote proved this. "He has done this to save his chair."
"When Mr Nitish Kumar doesn't stop reciting the name of Mr George Fernandes, who for his entire life was opposing Congress party...We know how much he has respected," the BJP spokesperson said.