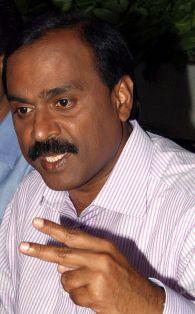 Former Karnataka minister and mining baron Gali Janardhan Reddy and six others were Monday charge sheeted by the Central Bureau of Investigation in a court in Bangalore in connection with alleged illegal mining of iron ore which caused a loss of Rs 198 crore to the exchequer.
CBI booked Reddy, his personal assistant M Ali Khan, the then Deputy Conservator of Forest, Bellary, S Muthiah, the then Deputy Director of Mines and Geology, S P Raju, the then Conservator of Forests, Manoj Kumar Shukla, and two private persons Swastik Nagaraj and K Mahesh for alleged criminal conspiracy, an agency spokesperson said.
In its charge sheet file before the Bangalore court, CBI has slapped Indian Penal Code sections related to criminal breach of trust by public servant, cheating, forgery and forgery for the purpose of cheating among others besides provisions of the Prevention of Corruption Act against them.
The agency has alleged that Reddy and others entered into a criminal conspiracy during 2009-10 to illegally excavate iron ore from various forest areas in Bellary district and surrounding areas, CBI sources said.
It alleged that they excavated iron ore to sell it to various traders and transported the ore to Belekeri port for export purpose causing a wrongful loss of Rs 198-crores to the state exchequer and wrongful gain to themselves, they said.
"All the accused persons against whom the charge sheet is filed are in judicial custody," CBI spokesperson said.
The agency has taken up the investigations on the directives of the Supreme Court. The apex court had appointed a Central Empowered Committee, which recommended an in-depth investigation of the mining and exports of the ore.
The CEC had recommended that CBI must investigate all aspects of the illegalities associated with raising, transportation, sale and purchase, storage and disposal of about 3.4 mn tonnes of iron ore exported from January 1, 2009 to May 31,2010 by four exporters.