With the Gujarat going to the polls, name calling has peaked this election season with words like neech and Babar bhakt being flung around.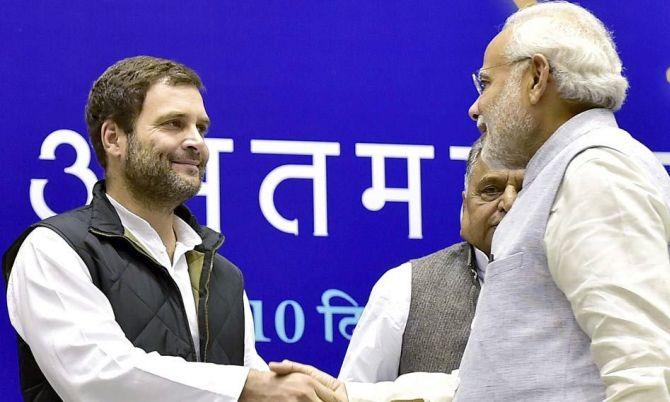 >> Mani Shankar Aiyar's 'neech kisam ka aadmi' barb
On Thursday, Congress veteran Mani Shankar Aiyar, set off a political firestorm when he called Prime Minister Narendra Modi a "neech kism ka aadmi" (a vile sort of man).
Aiyar was suspended from the party shortly after he made the remark and issued a show cause notice. Proffering an apology, Aiyar said the word 'neech' holds different meanings and added he would want to apologise for the wrong translation.
Aiyar said, "I meant a low-minded person when I said 'neech'. I tend to think in English when I speak in Hindi as Hindi is not my mother tongue. I never meant low-born. In English, there is a clear distinction between 'low' and 'low-born'. So if it has some other meaning or it means 'low-born' only, then I apologise for the wrong translation. The word I used has different meanings and the meaning Prime Minister Modi is making out is not what I meant."
This is not the first time Aiyar has made a derogatory remark about the prime minister.
He had, in January 2014, before the Modi-wave took the nation by surprise, said "Modi would never become prime minister, but he was welcome to serve tea to Congressmen."
>> 'Aurangzebi Raaj': Modi's dig at Rahul's elevation
On December 4, Prime Minister Narendra Modi likened the imminent elevation of Rahul Gandhi to dynastic succession of Mughal rulers.
Addressing a rally in Dharampur in Valsad district of election-bound Gujarat, the PM said, "Does the Congress accept that it is a one family party? We don't want this Aurangzebi Raaj (Aurangzeb's rule)... For us, country comes first, 125 crore people of this country are our high-command."
>> Rahul is 'Babar bhakt' and 'kin of Khilji': BJP attacks Gandhi
Abuse by using the name of Mughals seems to be the flavour of the season.
On Wednesday, BJP leader Narsimha Rao called Rahul Gandhi a "Babar bhakt" and a "Kin of Khilji" for refusing to clear the party's stand on the Ramjanmabhoomi-Babri Masjid dispute.
"Rahul Gandhi has teamed up with Owaisis, Jilanis to oppose Ram temple in Ayodhya. Rahul Gandhi is certainly a Babar Bhakt and a Kin of Khilji," Rao said.
The comments came on the backdrop of a raging debate over Gandhi's religion after his name was found written on the entry register meant for non-Hindus after a visit to Somnath temple.
>> Rahul's Gabbar Singh tax jibe
A part of the Congress's campaign is built on attacking the BJP government on demonetisation and Goods and Services Tax. In a series of election rallies, Gandhi said: "Modi ji forced Gabbar Singh Tax on people. He destroyed the small and medium sized business houses with that one step.