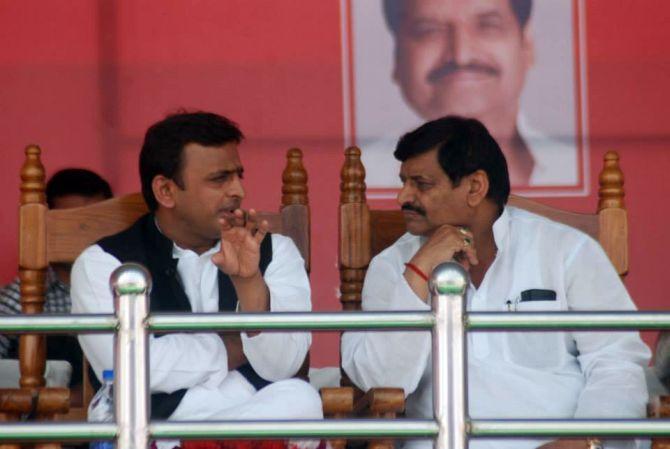 The bitter power struggle between Akhilesh and Shivpal Yadav came to the fore once again on Monday on the ticklish issue of ticket distribution with the chief minister differing with his uncle over selection of candidates.
As reports of strains over ticket distribution cropped up, Opposition took a swipe at the ruling party in Uttar Pradesh with Bahujan Samaj Party supremo Mayawati saying the infighting has split the Samajwadi Party into two camps.
Shivpal, who had replaced Akhilesh as state party chief during a bitter feud in the Yadav clan, however, maintained there was "no problem" and if there is any it would be resolved.
"The matter of ticket (distribution) will be cleared. As soon as elections will be announced, all problems will be resolved...When I have already said everyone's opinion is being considered, there is no problem...Why are you (media) creating problems," he posed.
After Akhilesh reportedly sent a parallel list of candidates to his father Mulayam Singh Yadav, Shivpal on Monday met the SP supremo at his residence in Lucknow for over three hours apparently to iron out differences.
Akhilesh is believed to be opposed to nomination of Sigbatullah Ansari, who is the brother of jailed gangster Mukhtar Ansari.
He also does not favour giving ticket to Atiq Ahmed from Kanpur, who faces over 40 criminal cases including those of murder and attempt to murder, and Aman Mani Tripathi, now arrested by the CBI in a case related to the killing of his wife.
These names have reportedly upset Akhilesh Yadav so much, sources say, that he has sounded out his father Mulayam and asked him to intervene.
The choice of candidates for 175 seats by Shivpal has apparently not gone down well with his defiant nephew Akhilesh who, according to party insiders, prepared his own list of preferred candidates for all the 403 UP assembly seats and sent it to Mulayam.
The list drafted by the chief minister carries his name as well as a candidate from Bundelkhand region where he will embark on a 'Rath Yatra' on December 28.
During their recent public turf war, Akhilesh had insisted he should have a say in the ticket distribution as the election was a test of his government's performance.
This is Akhilesh's second power play in the last three days. On December 24, Akhilesh had met first-time MLAs at his residence and promised to give them party tickets.
Chinks in the ruling party's armour once again came to the fore when Shivpal sent out a series of tweets virtually suggesting he was the boss when it came to distributing tickets for the assembly elections due in few months.
Shivpal said the name of 175 candidates were already finalised and warned that any indiscipline would not be tolerated as it may harm the party's image. He asserted that distribution of party tickets was done on the basis of winnability.
"Tickets will be distributed based on wins. So far 175 people have been given tickets. The chief minister will be selected by the legislature party as per the party's constitution. No indiscipline will be tolerated in the party," he tweeted in Hindi.
Some party insiders said the tweets could be a sign of yet another war brewing between Shivpal and Akhilesh over seat distribution.
While party sources maintained that Mulayam will take the final call on candidates, UP minister Juhi Singh sought to downplay any controversy over ticket distribution saying it was a non-issue.
The latest development comes after Mulayam had brokered a fragile peace between Shivpal and Akhilesh as the infighting threatened to damage SP's poll prospects.
UP BJP General Secretary Vijay Bahadur Pathak said, "This is a sign that SP is in total disarray and they talk about giving a fight to the BJP."
The tussle in Samajwadi Party will prove to be its nemesis in the coming polls, he said.
The Congress termed the development as SP's "internal matter".
SP National General Secretary Ramgopal Yadav, who is close to Akhilesh, recently said he would have the "final say" in the matter by virtue of the posts he held in the party and SP Parliamentary Board.
"Tickets are finalised by member secretary of the board, the post which I hold. My say will be final," Ramgopal had said.