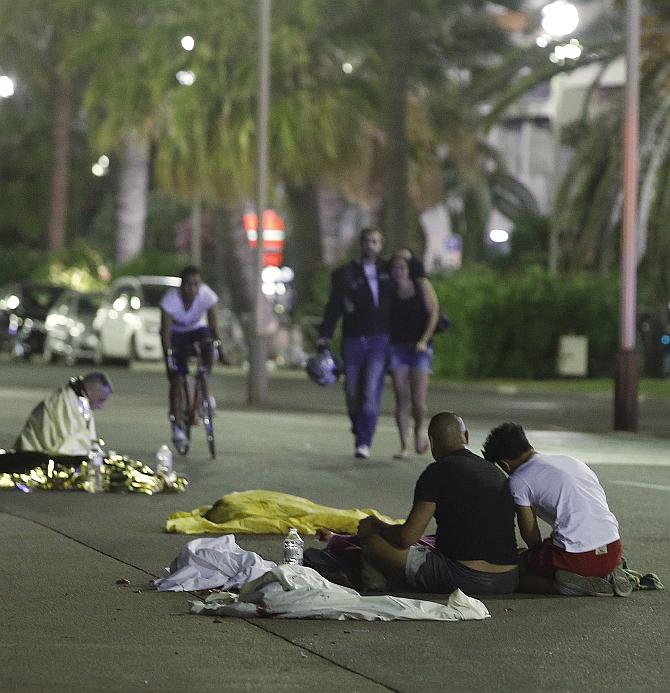 A French-Tunisian criminal well known to the police for armed attacks used a hired truck to kill at least 84 people in a terrorist attack during Bastille Day celebrations in Nice.
At least 10 children are among the dead in the Riviera city following a "cowardly and barbaric" atrocity believed to have been carried out by 31-year-old Mohamed Bouhlel. Officials fear the death toll will rise.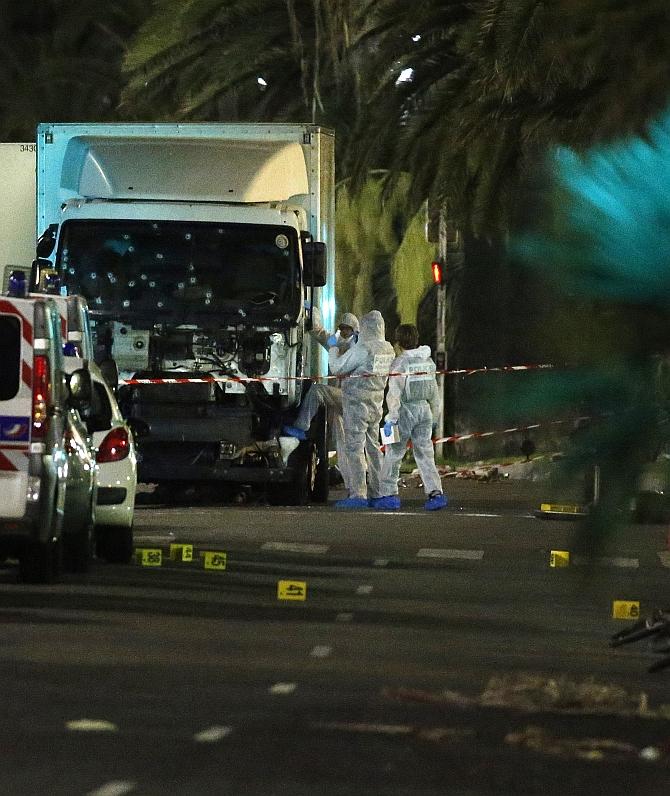 IMAGE: French police forensic officers stand next to a truck that ran into a crowd celebrating the Bastille Day national holiday on the Promenade des Anglais. Photograph: Eric Gaillard/Reuters
Bastille Day is a celebration of everything France holds dear, its secular republic and the values of "Liberte, Egalite, Fraternite" (Freedom, Equality, Fraternity).
Graphic television and video images showed the truck accelerating and tearing through the crowd, dozens of victims sprawled in its path, and the bullet-riddled windshield of the vehicle.
The driver first shot a gun into the crowd before driving 2 kilometres along the Promenade des Anglais, the main street in Nice, mowing down people who had gathered to watch fireworks, regional President Christian Estrosi told CNN affiliate BFM-TV.
Police shot and killed the driver, said Pierre-Henry Brandet, a spokesman for the French Interior Ministry.
Authorities said they found identity papers belonging to the 31-year-old French-Tunisian citizen in the truck, as well as "guns" and "larger weapons". The attacker was reportedly known to French police for common law crimes, but not to intelligence services, Reuters quotes police source as saying.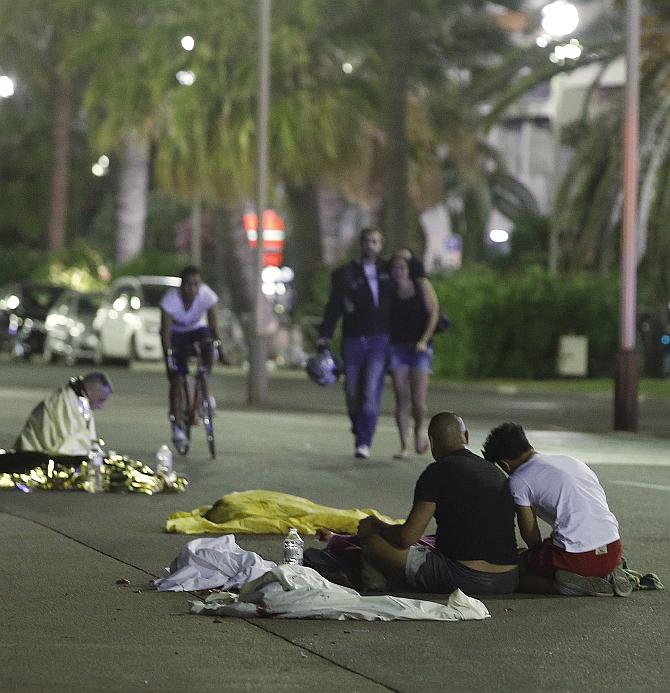 IMAGE: The street was strewn with covered bodies after the attack. Photograph: Eric Gaillard/Reuters
An American witness at the scene told the CNN that the truck driver appeared to accelerate as he hit the people. The witness said he saw only the driver. He heard gunfire as he ran away, but did not know its source. It seemed like an accident at first, but it became apparent very quickly that it was deliberate, the witness added.
"We thought he lost control. We all shouted: 'Stop! Stop!'" said Nader Shafa'ai, an Egyptian tourist, who captured the mayhem on his video camera as the truck came careening through the crowd. "Then it was clear it wasn't an accident."
The footage Shafa'ai shot shows French police as they surrounded the white truck and fired rounds at the driver. The footage also shows scores of bodies under and behind the truck.
"I filmed it because I was in shock," he said.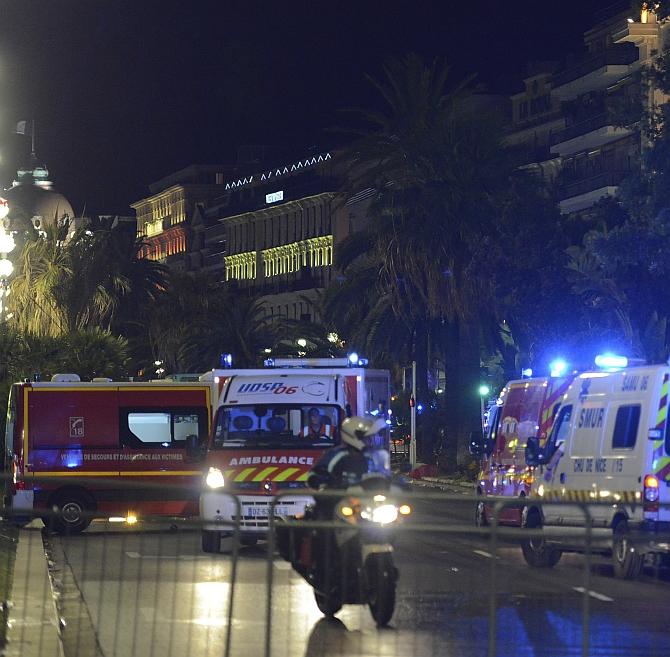 IMAGE: French police and rescue forces vehicles are seen on the Promenade des Anglais. Photograph: Jean-Pierre Amet/Reuters
A woman told France Info she and others had fled in terror: "The lorry came zig-zagging along the street. We ran into a hotel and hid in the toilets with lots of people."
The attack was of an "undeniable terrorist nature," a sombre French President Francois Hollande said in a televised national address, confirming that "several children" were among the dead as families came together to celebrate France's national day.
Hollande announced that he would extend his country's state of emergency -- due to end July 26 -- by an additional three months, following the deadly attack in Nice.
Hollande condemned the attack as a "monstrosity," and said there could be no doubt that it was an act of terror.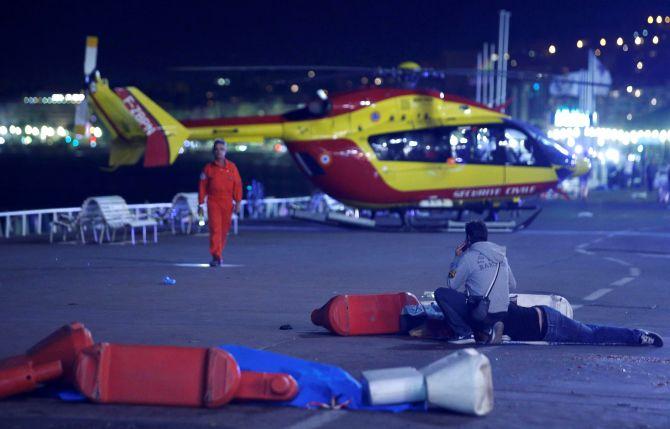 IMAGE: An injured individual is seen on the ground in Nice, France. Photograph: Eric Gaillard/Reuters
"France as a whole is under the threat of Islamic terrorism," he said. "We have to demonstrate absolute vigilance and show determination that is unfailing."
"Nothing will lead us to give in to our will to fight against terrorism. France is afflicted but I assure you she is strong and she will always be stronger than the fanatics that want to strike her today," he concluded.
Following Hollande's speech, French interior minister Bernard Cazeneuve confirmed that the death toll had risen to 80. At least 202 people were injured in the attack, with 18 in a critical condition. The toll was later revised.
It is not yet clear whether the incident was a terrorist attack and no group has yet come forward to claim responsibility. However, as in the hours immediately after the Paris, Brussels and Orlando attacks, there was a now familiar celebration on channels run by groups that support the Islamic State, as well as on at least one channel affiliated with the group.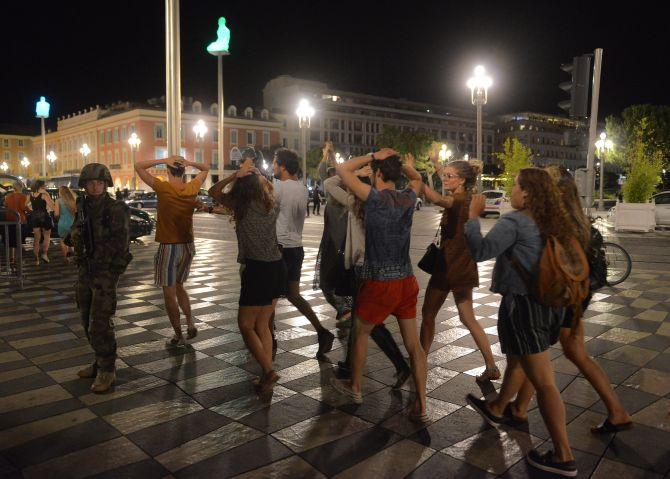 IMAGE: People cross the street with their hands on thier heads as a French soldier secures the area. Photograph: Jean-Pierre Amet/Reuters
France has been in a state of high alert following a number of terror attacks claimed by ISIS on Paris and other French cities over the past year.
Almost exactly eight months ago, Islamic State terrorists killed 130 people in Paris on November 13, the bloodiest in a number of attacks in France and Belgium in the past two years. Last Sunday, France had breathed a sigh of relief as the month-long Euro 2016 soccer tournament ended without a feared attack.
Prime Minister Narendra Modi on Friday reached out to France.
In a statement, PM Modi condemned the horrific attack. "Appalled by horrific Nice attack. I strongly condemn such mindless acts of violence. My thoughts are with the families of deceased."
"I hope the injured recover soon. India shares pain & stands firmly with our French sisters & brothers in this hour of immense sadness," he added.
United States President Barack Obama condemned what he said "appears to be a horrific terrorist attack."
"I have directed my team to be in touch with French officials, and we have offered any assistance that they may need to investigate this attack and bring those responsible to justice," Obama said in a statement. "We stand in solidarity and partnership with France, our oldest ally, as they respond to and recover from this attack."