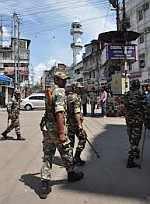 Unidentified gunmen shot dead four persons of a family and injured one at Ziaguri village in Assam's violence-hit Kokrajhar district on Friday night around 11 pm.
A curfew has been imposed in the district since Thursday.
A police source informed that a group of gunmen fired indiscriminately at the house of a minority villager killing four of the family and injuring one. The slain included one woman and a ten-year-old boy. The incident has added to the tension in the communally sensitive district.
Additional forces were rushed to the area to launch a combing operation.
The killing bore the stamp of militant operation, a police source said.
The incident occurred about 10
km from the district headquarters of Kokrajhar and despite heavy deployment of security forces. With this killing, the death toll due to a fresh spell of violence in the Bodoland Territorial Autonomous District Council area since November 10 has gone up to 12.
Friday night's incident occurred following the review of the law and order situation in the district by Assam Director General of Police Jayanata Narayan Choudhury along with senior officials of the administration, paramilitary forces and the army earlier in the day.
While the police have not ruled out the involvement of a faction of Bodo tribe ultras in the fresh spell of killings, Assam Chief Minister Tarun Gogoi has hinted involvement of 'some politicos' behind the violence.