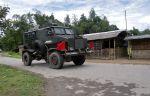 The army staged flag marches in Assam's curfew-bound Kokrajhar on Friday where indefinite curfew is in force, with the district remaining incident free in the last 24 hours.
"The army and police are working around the clock to bring the situation under control and no untoward incident has been reported during the last 24 hours," Chief Minister Tarun Gogoi told reporters at a function in Nalbari district.
Gogoi refuted the allegation that Congress politicians were involved in the violence. However, the chief minister said, if any politician of any party was found involved, stern measures will be taken.
Five columns of the army were also kept in readiness as Director General of Police Jayanta Narayan Choudhury held a high-level meeting of army, police, CRPF and BSF personnel where a decision was taken to seize illegal arms.
"The main thrust will be on seizing weapons, both country-made and sophisticated weapons," Choudhury said.
He termed the fresh violence since November 10 which has left six dead as isolated and that local factors were responsible for it.
The DGP said that several youths of different communities were taken into custody as they appeared to be aggrieved and taking to arms.
IGP (Law and Order) A P Rout told PTI "The army has been deployed in the district. We will take strong action to stem violence. The situation is under control now."
Kokrajhar Deputy Commissioner Dr Jayant Narlikar said that the army was assisting the district administration by staging flag marches and enforcing indefinite curfew.
Regarding detention of persons for violating curfew, Narlikar said that the law would take its own course.
BPF leader Hemendra Nath Brahma was detained for violating curfew in Gossaigaon police station area, while the police have taken 33 persons into custody following fresh outbreak of violence since November 10.
Industry Minister Pradyut Bordoloi and Parliamentary Secretaries (Home) Rana Goswami and Bhupen Bora, reached Kokrajhar on Thursday and reviewed the situation.
Prime Minister Manmohan Singh called up Gogoi on Thursday evening to discuss law and order in BTAD districts.