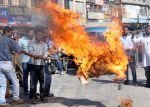 Fresh incidents of violence in Bodoland Territorial Autonomous District Council areas in Assam, the Opposition Asom Gana Parishad on Friday burnt effigies of Assam Chief Minister Tarun Gogoi in different parts of the state condemning his government's failure to maintain peace and tranquility.


The AGP stated that Chief Minister Tarun Gogoi, who is also the home minister of the state, had miserably failed to contain incidents of violence and launched a scathing attack on the functioning of his government on the law and order front.


Meanwhile, indefinite curfew remained enforced for the second day in violence-affected Kokrajhar district in the BTC where the situation was stated to be under control but tense. 


Director General of Assam Police Jayanta Narayan Choudhury was in Kokrajhar on Friday to take stock of the situation and review the measures taken by the police and paramilitary forces in coordination with the Army.


The DGP who chaired a law and order review meeting with the superintendent of police, deputy commissioner of the district, inspector general of police of state police, senior officials of the CRPF, BSF, SSB and the Army in Kokrajhar, termed the fresh incidents of killing as isolated.


The DGP further informed that efforts had been on to get hold of illegal weapons available in the BTC area.
Security forces have so far arrested total 21 persons in connection with the two incidents of murder in Kokrajhar district on Thursday. Fifty other persons have been arrested for violating the curfew.