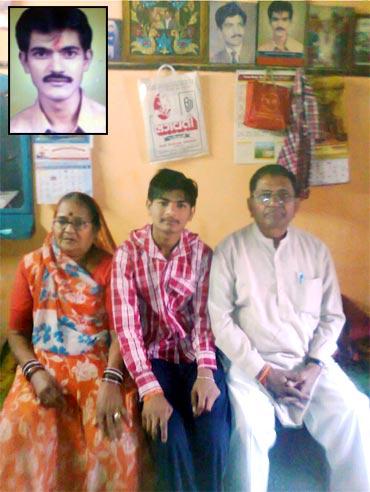 The burning of the Sabarmati Express at Godhra in 2002 brought double grief to retired mill-worker Sardarji Vaghela, 71.
His son Rajesh got charred to death in the torched bogie and his daugher-in-law Chanda walked away with the compensation and two grand daughters, leaving her then six-year-old son Jatin in his grandfather's care.
The verdict in the case will be announced by a special court in Ahmedabad on February 22.
Vaghela has survived on Rs 2,200 monthly rent he gets from two rooms he owns in Himmatlal's Chawl Khokhra in Ahmedabad. Never allowing his grief to down his spirits, he has manfully soldiered on, taking care of his grandson Jatin, 15, wife Radhaben, 65. And there is a total absence of bitterness against his daughter in law.
His entire family is committed to the Ram Janmabhoomi movement. His 27-year-old son Rajesh Vaghela was returning from Ayodhya on February 27, 2002 when the train was torched by a mob at Godhra. He was in the totally devastated coach S-6.  
But what rankles Vaghela is that the case has taken so long to reach completion and that it has been undermined further by not being tried under the stringent Prevention of Terrorism Act. In his view all the accused should be hanged -- a lesser punishment will be travesty of justice. He is not so sure that the court will award death penalty as the case no longer falls under POTA.
When asked if he still believed in the temple movement, his answer was a firm yes and says his family is ready to participate in yet another kar seva yatra if needed. He participates in the shraddhanjali (memorial) programme which is held every year on February 27 near Rohit Circle in Khokhra suburb in eastern Ahmedabad. Did he feel that this shraddhanjali was an empty formality now? His answer is 'no' with a retort that he has never forgotten nor forgiven Godhra.
He was of the view that absence of death penalty in the judgement and acquittal of many accused for want of clinching evidence will send a negative message to the Hindu community that they cannot depend on the government and the judicial system for delivery of justice to them.
He is happy that his grandson Jatin is doing well in studies and at present studying in 9th standard. He takes solace from the fact that his daughter-in-law Chanda did not remarry and instead chose to look after her daughters Krupal, 12, and Shivani, 10, at her parents' home in Sabarmati area. After some persuasion, Chanda had agreed to put Rs 50,000 each for three children in bank fixed deposit out of the total Rs 6.5 lakh compensation received. This is a great source of satisfaction to him.
Image: Sardarji Vaghela (right) with grandson Jatin and wife Radhaben (inset) son Rajesh who died in the incident.