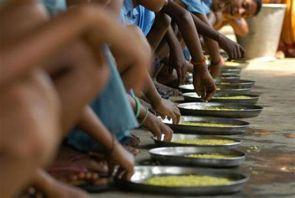 The much-touted Food Security Bill, which proposes to give the country's three-fourth population the right to highly-subsidised food, was introduced in the Lok Sabha on Wednesday, with the government rejecting apprehensions that it would impinge upon the rights of states.
Food Minister K V Thomas introduced the fresh Bill after withdrawing an earlier one along with the ordinance which was promulgated on July 5. Moving the National Food Security Bill, 2013, which promises to give right to the country's 80 crore people to get 5 kg of foodgrains every month at Rs 1-3 per kg, Thomas said there is nothing in it against the states.
"It does not impinge upon the rights of states. It protects the Constitution," he said to allay apprehensions expressed by Tamil Nadu parties – the All India Anna Dravida Munnetra Kazhagam and the Dravida Munnetra Kazhagam -- over the new law.
He said any concern could be debated upon when the bill comes up for discussion in the House. Earlier, AIADMK member M Thambidurai opposed introduction of the bill saying it is against the Constitution and federal system.
"It is not the Food Security Bill, it is actually Food Insecurity Bill," he said, adding it should brought only after consultations with states. Contending that the bill has "several flaws that have created serious apprehensions", he said the legislation amounts to "interfering with state governments".
Thambidurai, whose party is in power in Tamil Nadu, said the bill will affect his state where a universal scheme for providing subsidised food is already being implemented "successfully" by the state government.
He said the bill would result in additional financial burden of around Rs 3,000 crore to the state exchequer.
DMK leader T R Baalu also said his party has issues with the bill in its present form and would move amendments. "It should not be detrimental to the state's off-take (of food)," he said, noting that the proposed legislation will have far-reaching implications.