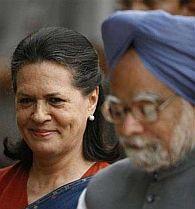 Using recent developments for reaching out to DMK and JD-U ensures needed thrust for the congress and its government. Aditi Phadnis reports

Amid the chatter on an advanced general election, the Congress party has gathered two entities -- one old friend and a newer one -- closer to its bosom, ensuring that at least in the Lok Sabha, it would not be derailed by political surprises.
With 204 members, it needs 272 in the Lok Sabha. If either of its two most important allies, the Samajwadi Party or the Bahujan Samaj Party, withdraws support, continuation of the governing alliance becomes fragile.
Environment and Forests Minister Jayanthi Natarajan called on Dravida Munnetra Kazhagam supremo M Karunanidhi in Chennai earlier this week, though the latter had withdrawn from the United Progressive Alliance coalition, citing vacillation on the Sri Lankan Tamil issue.

Soon after, T R Baalu, the DMK pointsman in Delhi, met Congress president Sonia Gandhi to seek the party's support for the Rajya Sabha election of Kanimozhi (Karunanidhi's daughter) and reportedly secured some assurances.
The two meetings suggest that while the DMK formally might have withdrawn support for the Congress-led UPA, it could become the invisible friend the Congress is seeking in the Lok Sabha.

With 18 members, the DMK can replace the SP which has 22 and been browbeating the Congress at every possible opportunity. Internally, SP sources say the party will pull out of the UPA in November, giving rise to speculation that India might face an early Lok Sabha election. Kanimozhi's election is a prestige issue for the DMK.

All India Anna Dravida Munnetra Kazhagam leader and Tamil Nadu Chief Minister J Jayalalithaa has indicated she'll go to any length to prevent the DMK from getting the Rajya Sabha seat.

The Congress has the choice of supporting either Kanimozhi or the representative of the Desiya Murapokku Dravida Kazhagam, a small but powerful regional party. Locally, it has more to gain by helping the DMDK get its candidate in the upper house. But in the politics of the Lok Sabha, the DMK is more useful.
The other friend the UPA has now got is the JD-U.

On most issues, the JD-U is likely, especially now, to have a flexible position. With 17 Lok Sabha members (three are suspended from the party and disqualification proceedings are on), the JD-U can easily match the BSP's support with 21.
The tactical moves made by the Congress in shoring up and defending its parliamentary position means an accident on the floor of the House cannot bring the government down. This means early elections through a parliamentary accident can be ruled out, ensuring the initiative on the timing of elections is firmly in the hands of the UPA.