A prominent doctor and his wife go missing, triggering off a political storm in Bihar. M I Khan reports from Patna for Rediff.com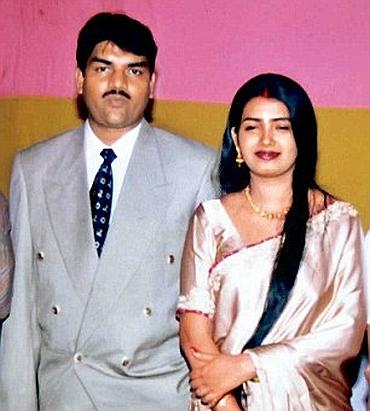 A day after the body of a doctor, kidnapped in Bihar last week, was found in neighbouring Jharkhand, the relatives of another doctor and his wife, who were apparently abducted five days ago, are praying for their safe return.
Dr Pankaj Gupta, a leading paediatrician and member of a leading business family in Gaya, and his wife Shubhra Gupta were returning home from Giridih in Jharkhand where they traveled to attend a wedding last Friday, May 1, when they went missing.
A Special Investigation Team, constituted by Bihar Director General of Police P K Thakur to trace the couple, suspects the involvement of an inter-state gang in the abduction.
News reports, citing police sources, point out that the Grand Trunk Road has closed circuit cameras at all toll plazas. Other than the Barhi toll plaza near Chouparan, no other CCTV camera has captured the couple's Audi car.
From this point, one road leads to Jharkhand while the other goes to Varanasi.
Police teams have rushed to Ranchi in Jharkhand and Kanpur and Gorakhpur in Uttar Pradesh to uncover clues.
Dr Gupta's family has not received a ransom call yet.
"All of us are praying for the safe return of my brother and his wife. We are shocked but continue to hope for their safe return," Neeraj Gupta, Dr Gupta's younger brother, told Rediff.com
Chief Minister Nitish Kumar, who is monitoring the case, has assured the family of the couple's safe return.
The Opposition Bharatiya Janata Party has cited the abduction as an example of the return of 'Jungle Raj' in Bihar and the re-emergence of the kidnapping industry in the state.
The Indian Medical Association and the Bihar State Health Service Association have threatened to paralyse medical services in the state if Dr Gupta and his wife are not traced soon.