French police are on the hunt for the 26-year-old burqa-wearing, crossbow-shooting wife of kosher-grocery-store shooter and cop killer Amedy Coulibaly.
Hayat Boumeddiene, 26, is believed to be the wife or girlfriend of Amedy Coulibaly, a gunman who took hostages at a kosher grocery store in Paris' inner east. Before he was killed in a police raid, Coulibaly claimed he had "synchronized" his attacks with the Kouachi brothers' attack on Charlie Hebdo magazine.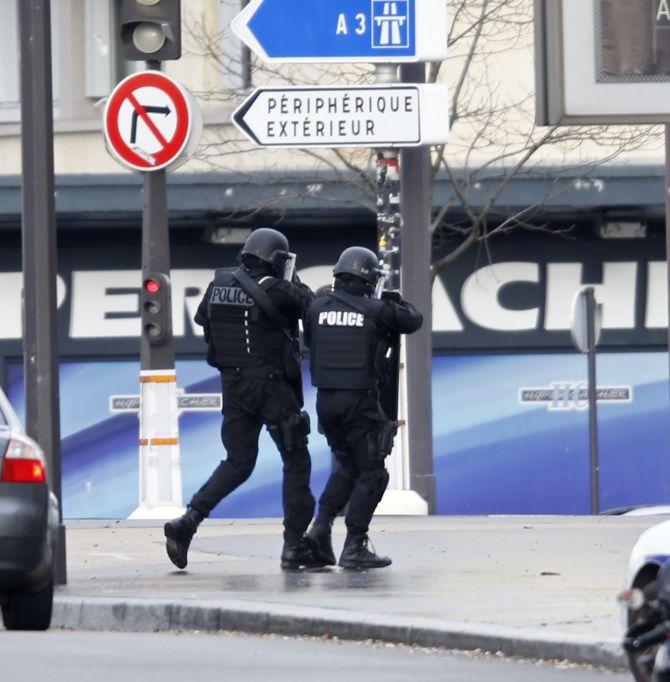 French cops seen at the scene of a hostage taking at a kosher supermarket near Porte de Vincennes in eastern Paris. Photograph Charles Platiau/Reuters
Hayat Boumeddiene, who police say is "armed and dangerous," trained alongside her beau at a jihadist camp in the French countryside and is a suspect in the murder of a female cop on Thursday.
In 2009, the blood-thirsty brunette traded in her low-paying job as a cashier for the terrorist life, according to French newspaper Le Monde.
Amedy Coulibaly, aged 32, (L) who was killed in Friday's grocery store hostage situation and his accomplice Boumeddiene who is currently on the run. Photograph: Direction centrale de la Police judiciaire via Getty Images
According to cops, Boumeddiene escaped from the grocery store during the confusion as the freed hostages ran away following the siege that left Coulibaly dead.
Police were aware of Coulibaly's track record and had earlier interviewed his girlfriend as part of their investigations into the terror suspect.
Speaking during a police cross-examination she said: "When I saw the massacre of the innocents in Palestine, in Iraq, in Chechnya, in Afghanistan or anywhere the Americans sent their bombers, all that...well, who are the terrorists?" She added that when Americans killed innocents, it was the right of men to defend their women and children.