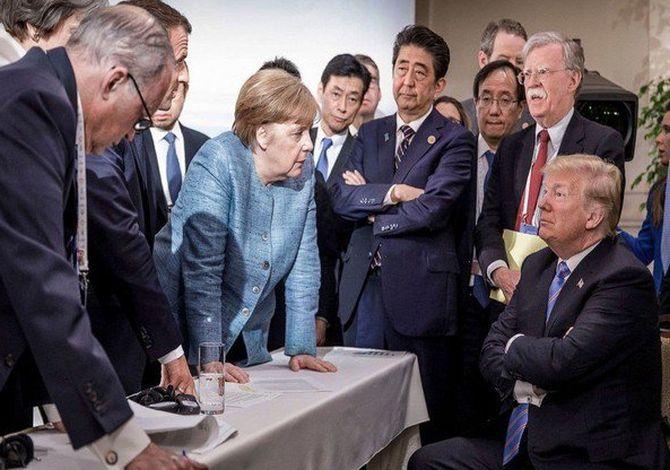 Leaders of seven advanced economies concluded their summit in Canada by signing a joint statement acknowledging the importance of mutually beneficial trade.
However, the pledge failed to bridge the gap among the G7 partners following United States President Donald Trump's imposition of tariffs on its allies and a threat of global trade war.
The summit ended in farce and a renewed threat of global trade war as Trump abruptly rejected the text of the consensus statement and bitterly insulted the Canadian host.
On Saturday, in their eight-page communique, the leaders of the United States, Germany, Britain, France, Japan, Italy and Canada vowed to tackle protectionism and cut trade barriers, after two days of discussions, Al Jazeera reported.
Just minutes after the joint communique that had been approved by the leaders of the Group of Seven allies was published, Trump launched a Twitter broadside from aboard Air Force One.
Trump left the meeting scheduled in La Malbaie early to head to Singapore for a most awaited summit with North Korea's leader Kim Jong Un on June 12.
Trump accused his G7 partners of 'unfair' trade practices and of treating the US like a piggy bank.
He, however, pitched the idea of discarding all tariffs and trade barriers between the US and its G-7 allies at the summit.
'Based on Justin's (Canadian PM Justin Trudeau) false statements at his news conference, and the fact that Canada is charging massive Tariffs to our US farmers, workers and companies, I have instructed our US Reps not to endorse the Communique as we look at Tariffs on automobiles flooding the US Market!' Trump tweeted.
'PM Justin Trudeau of Canada acted so meek and mild during our @G7 meetings only to give a news conference after I left saying that ... he 'will not be pushed around.' Very dishonest & weak.'
Earlier, Trudeau had told reporters that Trump's decision to invoke national security to justify US tariffs on imports of steel and aluminum was 'kind of insulting' to Canadian veterans who had stood by their US allies in conflicts dating back to World War I.
"Canadians are polite and reasonable but we will also not be pushed around," he said.
With inputs from agencies.