After 20 months of hectic negotiations, Iran and six major powers have reached a historic deal to limit Teheran's nuclear programme in return for lifting of sanctions.
Iran's Foreign Minister Javad Zarif called the agreement a "historic moment" and a "win-win solution" that could usher in a "new chapter of hope" in relations between Tehran and the West.
The deal overcame stiff opposition from close US allies like Israel and Saudi Arabia, who said Iran cannot be trusted with a nuclear programme of any kind.
Let's understand closely what the deal is all about: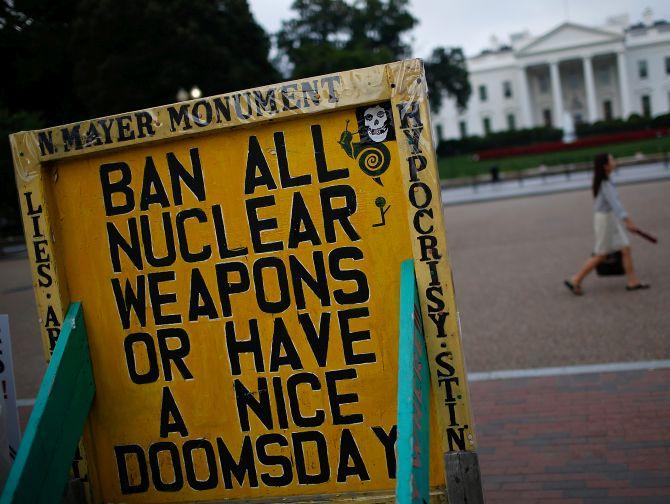 United States President Barack Obama announced a nuclear deal between six nations and Iran on Tuesday in Washington, DC. The deal would limit Iran's nuclear ambitions for a period of at least ten years in exchange for lifting economic sanctions. Photograph: Win McNamee/Getty Images

What does the agreement seek to achieve?
Iran has had nuclear programmes that could potentially provide Tehran with the capability to produce both weapons-grade enriched uranium and plutonium -- the two types of fissile material used in nuclear weapons. This agreement ensures that Iran's nuclear programme will be exclusively peaceful, and mark a fundamental shift in their approach to this issue.
Is this really a historic agreement?
Yes and no. Yes, because the western world has been trying for almost a decade to get Iran to agree to the terms laid out in the Joint Comprehensive Plan of Action.
And 'no' because it is, simply, too early to call it so. Teheran has gone back on its word earlier as well.
In October 2003, Iran concluded an agreement with France, Germany, and the United Kingdom that contained provisions designed to alleviate international concerns regarding its uranium enrichment and heavy-water reactor programmes. Iran temporarily suspended all enrichment and reprocessing operations and signed an International Atomic Energy Agency additional protocol to its IAEA safeguards agreement, but also asserted its right to develop nuclear technology. Between 2003 and 2006, questions arose about undeclared nuclear activities in Iran.
In January 2006, Iran broke international seals and restarted work on its commercial-scale enrichment plant.
So what has Iran agreed to do this time around?
Quite a lot of things, actually. These include:
* Reducing by approximately two-thirds its installed centrifuges. Iran will go from having about 19,000 installed today to 6,104 installed under the deal, with only 5,060 of these enriching uranium for 10 years. All 6,104 centrifuges will be IR-1s, its first-generation centrifuge.
* During a 15 year period, keeping its uranium stockpile under 300 kg of up to 3.67 percent enriched uranium hexafluoride or the equivalent in other chemical forms. The excess quantities are to be sold based on international prices.
* Redesigning and rebuilding a modernised heavy water research reactor in Arak. The reactor will support peaceful nuclear research and radioisotope production for medical and industrial purposes. The rebuilt Arak reactor will not produce weapons grade plutonium.
* Allowing the IAEA to monitor uranium ore concentrate produced by Iran from all uranium ore concentrate plants for 25 years.
... and what does it get in return?
Though unlikely immediately, the Islamic nation could see sanctions imposed on it by the Western world be taken off. These include:
* (Good news, India!) Purchase, acquisition, sale, transportation or marketing of petroleum, petrochemical products and natural gas from Iran.
* Sale, supply or transfer of goods and services used in connection with Iran's automotive sector.
* The United States will allow for the sale of commercial passenger aircraft and related parts and services to Iran.
* The United States will remove designation of certain entities and individuals on the Specially Designated Nationals and Blocked Persons List, and entities and individuals listed on the Foreign Sanctions Evaders List.
Does it make the world any safer?
Well, it does have the potential to lower regional tensions.
During the course of negotiations, high-level engagement renewed between Iran and the Gulf Cooperation Council states, including a visit to Iran by Kuwait's ruler Amir Sabah al-Ahmad Al Sabah and a visit by President Rouhani to Oman.
However, on the flip side, with Iran's nuclear infrastructure remaining on the ground, some experts speculate that Saudi Arabia and other GCC or regional states might seek to develop nuclear programmes. Although Saudi Arabia's King Salman and other Gulf leaders generally praised the April 2 framework agreement, these leaders also noted that the agreement would do nothing to slow Iran's "expansion" in the region.
The agreement is bound to come as a blow to Iran's key adversary, Israel that has been trying to create global opinion against Teheran's nuclear activities. Out of the window now is the option of a military strike on Iranian nuclear facilities.
What about the global economy?
Sanctions had crippled Iran's oil production, halving oil exports and severely limiting new development projects. Tuesday agreement is already showing its impact with oil prices tumbling by more than $1.
Analysts say it would take Iran many months to fully ramp up its export capacity following any easing of sanctions. But even a modest initial increase would be enough to pull international oil prices down further as the market is already producing around 2.5 million barrels per day above demand.