Pfizer can show the FDA approval to the Indian regulator and present a case that based on whatever data submitted, the US regulator has granted a full marketing nod, says Sohini Das.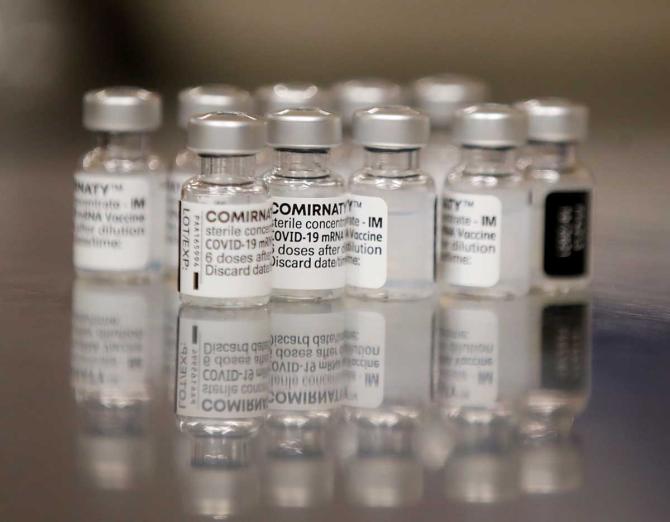 The US Food and Drug Administration has given full approval to the Pfizer-BioNTech Covid-19 vaccine for people aged 16 and above.
The vaccine, which will now be marketed as Comirnaty, continues to be available under emergency use authorisation (EUA), including for individuals aged 12 to 15 and for administering a third dose to certain immunocompromised individuals.
Let's find out what changes with this marketing approval.
How are EUA and full marketing authorisation different?
EUA is when in an emergency a regulator gives marketing authorisation to an unapproved medical product or unapproved uses of an approved medical product to diagnose, treat or prevent serious or life-threatening diseases or conditions.
In full authorisation, the regulator assesses more elaborate data that has been collected over a longer duration of time to give approval to the product to be used by consumers.
Ashish Prasad, partner, litigation and dispute resolution practice of Economic Laws Practice (ELP), explains that full authorisation is granted to any drug or vaccine after the regulator has studied the full data submitted from phase 1, 2 and 3 trials and has deemed the product to be fit to be marketed in public.
In case of EUA, however, an accelerated pathway is used where the regulator studies phase 1 and 2 data (along with interim efficacy data from phase 3 trials) to allow use of the product.
Safety is not compromised in an EUA.
What does full authorisation to the vaccine mean?
"While this and other vaccines have met the FDA's rigorous, scientific standards for emergency use authorization, as the first FDA-approved Covid-19 vaccine, the public can be very confident that this vaccine meets the high standards for safety, effectiveness, and manufacturing quality the FDA requires of an approved product," said Acting FDA Commissioner Janet Woodcock.
She added that the FDA approval of a vaccine may now instill "additional confidence" to get vaccinated.
Legal experts say that nothing much really changes beyond this.
Does the government have more control over distribution when a vaccine is under EUA?
Not really.
Sidharrth Shankar, partner at law firm J Sagar Associates, explains: "Change of status from an EUA to a full marketing approval changes nothing for distribution as this is not under the regulator's purview. The government can always decide to take over distribution of any medicine or vaccine if it deems fit."
For example, if there is a sudden dengue outbreak and there is a fully approved dengue vaccine in the market, the government can still decide to take over its procurement and distribution to effectively manage the epidemic.
When the Epidemic Act is in play, this can be done even for fully authorised products, not just those that have EUAs, legal experts clarify.
What changes for India with full authorisation?
In India, the company would follow the regulatory pathway of the land. While this would have no impact on the regulatory approval process here, Pfizer can show the FDA approval to the Indian regulator and present a case that based on whatever data submitted, the US regulator has granted a full marketing nod.
This definitely strengthens Pfizer's case in India.
Why were vaccines given EUA during the pandemic and not a full authorisation?
The research to develop a safe and effective Covid-19 vaccine was accelerated in 2020. This has never happened before. However, accelerated reviews of clinical trial data does not mean the trials have been rushed.
The trials on subjects have taken their usual time, the doses being given at stipulated intervals.
The recruitment of subjects has been a faster process and the regulator has been reviewing the data from these trials from time to time. This interim reviewing of data did not happen earlier.
The regulator would review the data once the trial was completed and the sponsor analysed and presented the data.
The second factor is time.
The regulator would need long-term immunogenicity data (whether the vaccine induces the desired immunity against a pathogen) from the trials.
A person may produce antibodies against the pathogen on getting a vaccine but it is important to see if he/she also develops what is called memory-cell immunity. This means that if exposed to the pathogen after a long period of time, he/she still produces antibodies.
When the vaccines got EUAs, no vaccine-maker had any long-term data or real-world data. Now that the vaccines have been administered to millions of people across the globe, there is real-world data.
It would capture adverse reactions and serious adverse reactions, based on which regulators can now do a risk-benefit analysis, which was not possible until a few months ago.
Feature Presentation: Ashish Narsale/ Rediff.com