Ashish Pandey, a former Bahujan Samaj Party MP's son who had brandished pistol at guests and threatened them in the foyer of a five-star hotel in New Delhi, surrendered on Thursday before a Delhi court which sent him to one-day police custody.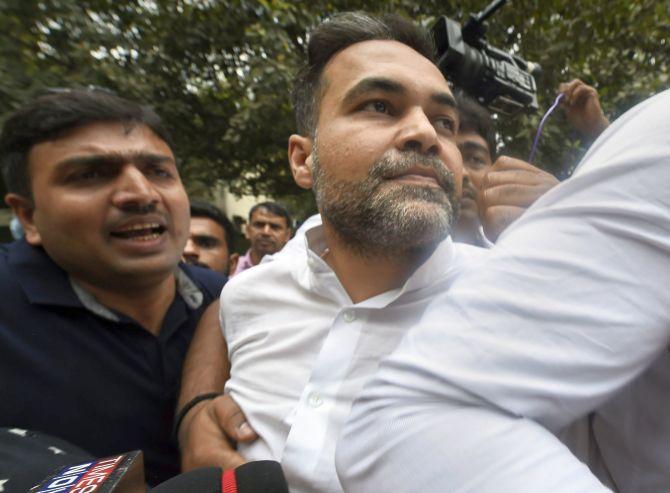 The accused approached the court of Metropolitan Magistrate Dharmender Singh and moved an application seeking to surrender.
The application for surrender, filed through lawyer S P M Tripathi, said Ashish Pandey, the son of former BSP lawmaker Rakesh Pandey, has been wrongly framed in the FIR and has been subjected to media trial.
It said Ashish Pandey is ready to submit before the court voluntarily and police may be directed to take him into custody if required.
However, since the magistrate concerned was on leave, the plea, seeking judicial nod to surrender, of Ashish Pandey was referred to another link judge who was hearing urgent matters of other courts whose presiding officers were on leave.
Meanwhile, the court staff of Metropolitan Magistrate Dharmender Singh informed police about Ashish Pandey's surrender plea to be taken up by link magistrate Neetu Sharma.
The accused along with his lawyers appeared before Metropolitan Magistrate Sharma to press for his surrender plea and police personnel were also there to seek custodial interrogation of Ashish Pandey.
The magistrate, at the outset, allowed the policemen to formally arrest and quiz Ashish Pandey in court premises for 20 minutes.
Later, the public prosecutor submitted that police was seeking a four-day custodial interrogation of Ashish Pandey on various grounds.
"Accused is from Lucknow. The weapon has to be recovered and also it has to be verified whether the gun has a licence. The accused is also required to be taken to Lucknow and other places to know whereabouts of other accused," the prosecutor said.
The counsel appearing for the accused opposed the application moved by police.
"The police knows that the gun is licensed. I (Ashish Pandey) am not required. I am ready to provide the gun. I am also not involved in previous cases. This case is highlighted only because the father of the accused was a politician and the matter is hyped by the media. No notice was served to the accused and NBW was issued malafidely," the defence counsel said.
The court, however, granted one-day police custody of the accused.
The court had on Wednesday issued a non-bailable warrant against Ashish Pandey for brandishing a pistol at guests and threatening them in the foyer of a five-star hotel here.
A video of the incident, that occurred early on Sunday, had gone viral on social media resulting in public outrage. It prompted police to step in and launch a hunt for the accused who had gone missing after the incident.