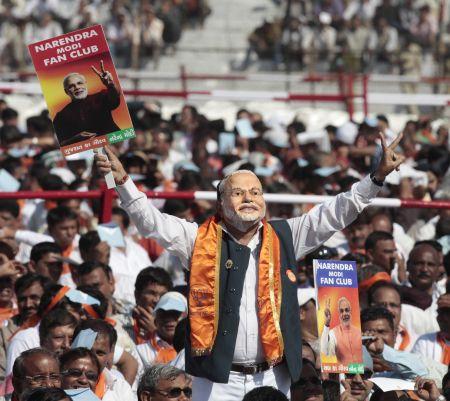 Everything about Narendra Modi's Maha Garjana rally in Mumbai on Sunday is humongous, reports Prasanna D Zore.
Sample this: One crore SMSes and two crore emails sent by Bharatiya Janata Party's social media team till December 19; 87,000 polling booth chiefs throughout Maharashtra connecting with 10 people each; 41 departments handling different aspects -- outdoors, publicity, social media, stage setting, etc. -- of the rally, a snack of five lakh to eight lakh theplas (a traditional Gujarati roti) ordered for participants, 1,000 buses to ferry people from in and around Mumbai and much more.
"We want to create history in Mumbai on December 22," says Atul Shah, state BJP spokesperson, about the likely participation of people from Maharashtra at party's prime ministerial candidate Narendra Modi's rally.
Also Read: Top Mumbai corporates to listen to Modi's Maha Garjana
"Never before this you would have seen a rally of this kind," says Madhav Bhandari, says chief BJP spokesperson, without getting into the complexity of guessing the number of participants at the Bandra-Kurla Complex ground, which is approximately three-times the size of Dadar's Shivaji Park.
Interestingly, in an all out bid to project Narendra Modi as the "messiah of the masses as well as classes", the state BJP unit have chalked out 41 departments to connect with chaiwalas, pheriwalas, thelewalas (hawkers), office-goers, corporates, villagers and the aam aadmi.
"Five to eight lakh theplas will be ready for those who will be attending the rally," informs Shah. For this, he says, household women across Mumbai have volunteered under the leadership of city president Ashish Shelar, organising general secretary Sunil Karjatkar and Yogesh Sagar, BJP MLA from Mumbai.
According to Bhandari, state BJP president Devendra Phadnavis had started galvanising the party's Maharashtra cadres the day Narendra Modi was officially anointed as the BJP's prime ministerial candidate.
Primarily organised as a rally of 87,000 polling booths in-charges of the BJP across Maharashtra, the organisers want to showcase the strength and magnetism of BJP's prime-ministerial candidate.
Elucidating the party's strategy to attract a huge number, Bhandari says that they had planned a two-pronged strategy: On one hand we are expecting each of our 87,000 polling booth agents to bring at least 5 people along with them. At the same time, our volunteers are canvassing across colleges in Maharashtra and encouraging the youth to enrol their names in the electoral lists.
"The support we have enlisted in these colleges is huge which quite clearly shows that Modiji is a mascot of yuva shakti (youth power)," says Bhandari.
Apart from making Narendra Modi popular among the country's youth and the marginalised sections, the Maha Garjana rally is also likely to add to the BJP's financial heft. "We will be collecting money through coupons from those willing to donate in a very transparent manner," says Shah without setting a figure.
Shah informs that representatives of various mass-based associations have been calling party workers evincing their interest to participate in the December 22 rally. "We are getting tremendous response from grain merchants, traders, slum dwellers and even middle class people. Everybody wants to attend Modiji's rally."
Speaking about the security during the Maha Garjana rally, Niranjan Shetty, another party spokesperson, said that more than 8,000 policemen from the city will be on vigil on the roads and vantage points. "The Gujarat police in charge of Modiji's security in that state are already here and are looking after the stage and ground security apart from the commandos from the National Security Guard."
"10 fire engines, 10 to 15 ambulances will be stationed outside the rally premises and 30 beds have been kept on standby at the nearby Bhabha Hospital in case of any mishap," Shetty said.
To incorporate as wide a support-base as possible for Modi's rally, Shetty said that former BJP MLA Raj Purohit has extensively covered Chira Bazaar, Mumba Devi and Kalba Devi areas of south Mumbai to elicit support from the traditional occupants and business people of these localities.
Image: A supporter of Narendra Modi cheers during a campaign rally
Photograph: Amit Dave/Reuters