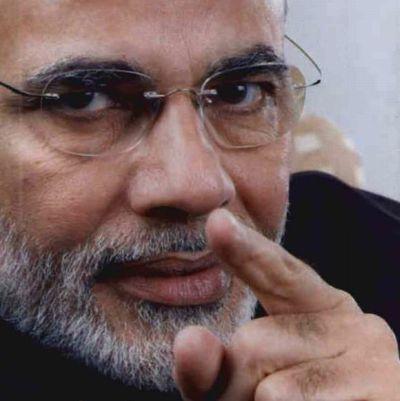 Corporate India will make their presence felt in big numbers in Bharatiya Janata Party's PM candidate Narendra Modi's rally at Mumbai's Bandra Kurla Complex on Sunday, reports Prasanna D Zore.
Including the crème de la crème of the Mumbai's financial world and their wives, almost 100 top corporate honchos will be in attendance to hear Bharatiya Janata Party's prime ministerial candidate Narendra Modi speak at the Bandra Kurla complex, a nouveau business district that is home to their offices.
Maharashtra BJP Treasurer Shaina Nana Chudasama, who is coordinating with maximum city's top-deck businessmen, confirmed that invites have been sent to "30 corporate couples", and they are likely to attend Modi's Maha Garjana rally on Sunday.
She, however, refused to name names when asked if invites have been sent to the Tatas, Birlas, Ambanis among other top-notch industrialists in the city. "You come there on December 22 and you will know who all will be in attendance," she told Rediff.com.
Also Read: 8 lakh 'theplas', 2 crore emails for Modi's Mumbai rally
Significantly, if these numbers actually make their presence felt at the rally, says a BJP office-bearer refusing to be identified for this report, it will provide a huge fillip to Narendra Modi's corporate-friendly image and "will be an indication of Modiji's acceptability as a progressive, pro-reform, decisive leader among India's top corporate leadership."
Not that Narendra Modi had any dearth of support from industrialists if one were to take a look at the number of new industries being set up in Gujarat during his first two stints at the state's helm as its chief minister.
While industrialists have openly mingled with BJP's PM-in-waiting during Vibrant Gujarat summits and other business fora in India and abroad, this will be the first time industrialists and top honchos will be rubbing shoulders at a political meeting organised by the Bharatiya Janata Party rally, giving it a political hue.
Among other efforts to bolster Narendra Modi's image as a reformist messiah, the organisers of the Maha Garjana rally said that as many as 14,000 participants belonging to various corporate entities in Mumbai have confirmed their participation in response to direct mailers.
Divya Dholay, Mumbai BJP secretary and also a member of the party unit's social media team, said "online registration is our main focus" and mailers have been sent to every single business entity in Mumbai.