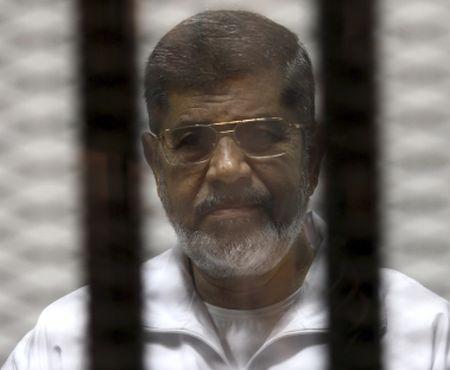 Ousted Islamist president Mohamed Morsi was on Tuesday sentenced to 20 years in jail by an Egyptian court over the killing of protesters while he was in power, the first ruling against the country's first elected leader.
The criminal court sentenced 63-year-old Morsi and 12 other top Muslim Brotherhood leaders to 20 years in jail as they stood in a soundproof glass cage inside a makeshift courtroom at the national police academy.
Judge Ahmed Youssef dropped murder charges and said the sentence was linked to the "show of force" and unlawful detention associated with the case.
Morsi, who was deposed by the military in July 2013 after thousands of people took to the streets demanding his removal, and 13 others were charged with killing protesters, possessing weapons, and inciting violence in the dispersal of the peaceful sit-in in front of the presidential palace.
The sentence is the first final verdict in a case against Morsi who is currently in prison over other cases including espionage, escaping from prison during the January 25 Revolution in 2011, insulting the judiciary and spying and handing documents of national security importance to Qatari intelligence through the Qatar-based Al-Jazeera news channel.
This is one of the major trials against the Muslim Brotherhood linked ex-president who came to power after the downfall of longtime president Hosni Mubarak in 2011.
The incident took place in December 2012, during Morsi's presidency, after opposition forces rallied in front of the Ittihadeya presidential palace to hold a sit-in to peacefully protest his decree in which he ordered that the president shall be immune from any judicial oversight.
Clashes erupted outside the palace and 10 people were killed including 33-year-old journalist el-Husseini Abu Deif. Four of the 12 defendants in the case are being tried in absentia.
Defendants include Morsi's former deputy chief of staff, former head of president's office, outspoken Islamic preacher Wagdy Ghoneim and deputy head of the Muslim Brotherhood's Justice and Freedom Party.
The authorities have banned the Muslim Brotherhood party and arrested thousands of Morsi's supporters.
An Egyptian court last month sentenced Muslim Brotherhood supreme leader Mohamed Badie and 13 other leaders to death.
On Monday, a local court sentenced 22 Muslim Brotherhood supporters to death for attacking a police station in July 2013 and killing a policeman.