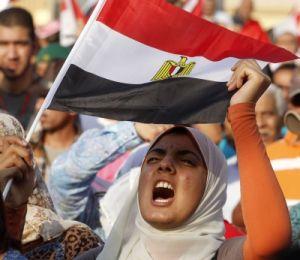 Egypt on Tuesday denounced as "negative, biased and ignorant" a report by Human Rights Watch that blamed the government for the mass killing of protesters in Cairo a year ago.
The Egyptian government has dismissed the report and criticised the "lack of neutrality in it".
The HRW report described the government's actions in dispersing a sit-in by deposed President Mohamed Morsi's supporters as "a crime against humanity".
The Interior Ministry has also said that a safe exit was available for protesters to leave the square before security forces moved into it.
The government also said that it was the protesters who fired the first shot at security forces.
The Egyptian government, responding minutes after the HRW report was published, rejected it as "negative, biased and ignorant of the terrorist attacks by the Muslim Brotherhood during 2013 inside Egypt".
The SIS statement also said that HRW has no right to work inside Egypt, as its office has been closed.
"Any of the organisation's movements or actions inside the state, including gathering evidence and testimonials are illegal violations of international law," it said.
On Sunday, Egypt had declared illegal and denied entry to an HRW delegation into the country to release its report on the killing of protesters from Morsi's Muslim Brotherhood group on August 14 last year.
In a statement on Monday, the Ministry of Interior said that HRW had previously withdrawn its request of issuing a license to be able to work in Egypt as a foreign NGO, a procedure stated in Egyptian law, and now it wanted to continue working without any legal basis.
The Ministry of Interior has previously said it would not commemorate August 14 for the massacre, but as a commemoration of the death of 114 government troops killed in a confrontation with "terrorists".
Meanwhile, HRW on Tuesday demanded Egypt's President Abdel Fattah al-Sisi and two officials be probed for "crimes against humanity" in the crackdown that killed hundreds of protesters.
Security forces stormed two sit-ins of Morsi's supporters in Cairo's Rabaa al-Adawiya and Nahda squares on August 14, 2013, resulting in what HRW called "one of the largest killings of demonstrators in a single day in recent history".
HRW said its own investigation into the crackdown showed that security forces intentionally used "excessive lethal force" in breaking the protests.