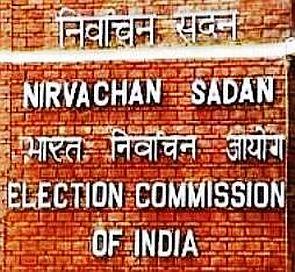 The Election Commission on Wednesday expressed "strong displeasure" over Shiv Sena Member of Parliament Sanjay Raut's remarks that Muslims should be stripped of voting rights and advised him to be more circumspect in future in his public utterance.
In its order issued in New Delhi on Wednesday evening, the Commission, while rejecting his explanation, said that by making such remarks he has violated the provisions of the election code.
Raut had made the remarks in an editorial published in Shiv Sena's mouthpiece 'Saamana', when model code of conduct was in force then for the bypoll in Bandra East and Tasgaon Kavathe Mahankali assembly constituencies of Maharashtra.
The EC had earlier issued him a show cause notice based on a complaint filed against him.
According to EC, his remark suggesting that Muslims should be disenfranchised violated sub para (1) of Para 1 of the poll code, which restrains party leaders and candidates from making communal appeals and statements that can create mutual hatred, and sub-para 4 of Para 1, which debars "corrupt practices" and offences under electoral laws.
"...now, therefore, the Commission hereby conveys its strong displeasure to you for violating aforesaid provisions of Model Code of Conduct and statutory provisions and further advises you to be more circumspect in future in your public utterances," the order said.
Responding to the show cause notice, Raut had questioned the authority of the Commission to issue such a notice for any violation of the provisions of poll code and stated that by making the statement he had not violated any provision.
The Commission also reminded him of a Supreme Court observation which said that "the duty at the top echelons of leadership at the state and national level of all political parties is to set the trend for giving the needed information to the electorate by adopting desirable standards so that it percolates to the lower levels and provides a congenial desirable standards for a free and fair poll."
Raut had last month waded into a controversy by saying the voting rights of Muslims should be revoked for some years to ensure the community is not used for vote bank politics.
In an article in 'Saamna', Raut compared All India Majlis-e-Ittihadul-Muslimeen leaders Asaduddin and Akbaruddin Owaisi to "poisonous snakes" who "exploit" the Muslim minority.
The Rajya Sabha member endorsed a call by late Shiv Sena chief Bal Thackeray to revoke the voting rights of Muslims.
"If Muslims are only being used this way to play politics, then they can never develop. Muslims will have no future till they are used to play vote bank politics and thus Balasaheb had demanded that the voting rights of Muslims should be taken away. What he said is right," Raut wrote.