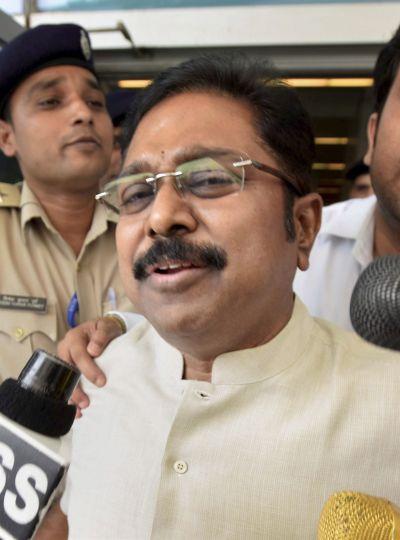 A special court on Wednesday remanded All India Anna Dravida Munnetra Kazhagam (Amma) leader T T V Dinakaran in a five-day custody of Delhi Police which said it needs to unearth the money trail and entire conspiracy in the Election Commission official bribery case.
The court also sent Mallikarjuna, an associate of Dinakaran who was arrested along with the politician last night, to police custody till May 1.
The Crime Branch of Delhi Police also secured warrants from the court to search the Chennai houses of Dinakaran and Mallikarjuna as part of its probe.
A Delhi Police team, probing the case, will travel to Tamil Nadu with Dinakaran and his aide to gather details about 'illegal channels' used for transferring money from Chennai to Delhi.
The Crime Branch team is likely to leave for Chennai on Thurday along with Dinakaran and Mallikarjuna, who were arrested on Tuesday night.
Police will also be confronting Dinakaran and Mallikarjuna along with the arrested middleman, Sukesh Chandrasekar, to get the details of the money trail and the hone conversations between them.
In Chennai, police will try to recover the mobile phones through which Dinakaran used to communicate with Chandrasekar.
While the police sought seven-day custody of both the accused, Special Judge Poonam Chaudhry allowed them to question the duo for five days.
The proceedings, which lasted 45 minutes, were not open to mediapersons, who were asked to leave the courtroom after the accused were brought in.
Prosecutor Balbir Singh argued that if the accused could undermine the sanctity of the electoral process, they could do anything they pleased, a lawyer said.
He said the police required the custody of the accused to recover Rs 10 crore allegedly given to arrested co-accused Sukesh Chandrashekar and to unearth the money trail as the amount came through hawala channels. The police have claimed Chandrashekar was the middleman in the case.
The prosecutor said the police need to recover the mobile phones through which Dinakaran used to communicate to Chandrashekar and two of the accused were required to be taken to Chennai and confronted with Chandrasekhar.
The police's plea was vehemently opposed by senior lawyer Vikas Pahwa, representing Dinakaran, on the ground that the accused has been joining investigation for the last four days and the police have not produced any material as to why his custody is needed.
Dinakaran was produced in the court amid tight security with the police cordoning off the gallery outside the court room.
He was arrested by the police on Tuesday after four days of questioning for allegedly attempting to bribe an EC official to get the undivided AIADMK's 'two leaves' election symbol for his faction.
Mallikarjuna, who had been accompanying Dinakaran everywhere ever since Chandrasekar's arrest on April 16, was also arrested for facilitating an alleged Rs 50-crore deal between the leader and Chandrasekar.