Following the demise of former Tamil Nadu chief minister J Jayalalithaa in December 2016, the state has been witness to a political turmoil with the All India Anna Dravida Munnetra Kazhagam splitting into two factions -- one led by Sasikala Natarajan and the other by former chief minister O Panneerselvam.
Here is the glimpse of the political turn of events in the state: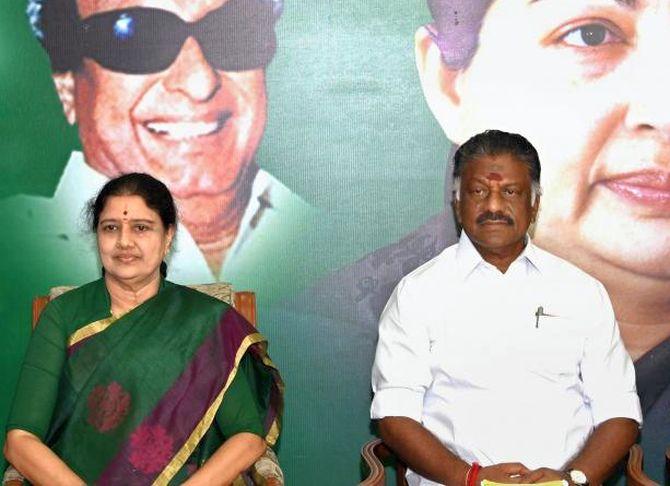 • SASIKALA, OPS CAMPS MERGER
In what can be called as a major hint towards sewing up an unprecedented merger between two warring factions in the Tamil Nadu government, the Sasikala and the O Panneerselvam groups of the AIADMK met on April 17 to discuss and deliberate over possibilities of their unification.
-- AIADMK patch-up on card? TN ministers' meet sets off speculations
The re-united party will then stake a claim for the AIADMK symbol -- two leaves.
Panneerselvam on Tuesday said that the Sasikala faction of the party has formed a committee to conduct talks for a merger.
• RK NAGAR BY-POLLS CANCELLED
By-elections in Chennai's RK Nagar constituency was cancelled by the Election Commission last week after cash-for-votes allegations surfaced. The decision came after income tax raids in Chennai found money had been distributed to voters prior to the polls.
Income Tax officials alleged that the Sasikala faction of the party had paid Rs 89 crore to voters to buy support for its candidate TTV Dinakaran, who is also her nephew.
As evidence, the department had cited documents seized during raids in more than 35 places, including properties of the state health minister C Vijayabaskar.
The Sasikala faction, however, refuted the allegation.
-- Cash for votes: EC cancels TN assembly bypoll
• EC FREEZES AIADMK'S ELECTION SYMBOL
The Election Commission froze the AIADMK election symbol of 'two leaves', after representatives of former Tamil Nadu chief minister O Panneerselvam and former party general secretary VK Sasikala made separate claims for it.
• TUSSLE OVER PARTY SYMBOL AHEAD OF RK NAGAR BY-POLL
Sasikala and Panneerselvam camps locked horns over the AIADMK election symbol 'two leaves' in view of the RK Nagar assembly constituency the by-elections in Chennai that were to be held on April 12.
• PALANISAMY WINS FLOOR TRUST
On February 18, amid an uproar in the Tamil Nadu assembly, Edappadi K Palanisamy won the vote of confidence with 122 MLAs supporting him.
• PALANISAMY TAKES OATH AS TAMIL NADU CM
Edappadi K Palanisamy took oath as Tamil Nadu chief minister along with 31 other AIADMK MLAs on February 16. Meanwhile, the AIADMK said that Palanisamy will seek the vote of confidence on February 18.
-- Meet Edappadi Palaniswami, Tamil Nadu's new CM
• SASIKALA SURRENDERS BEFORE BENGALURU JAIL
A day after being convicted by the Supreme Court in connection with the disproportionate assets case, Sasikala Natarajan surrenders before Bengaluru's Parappana Agrahara jail.
• DINAKARAN APPOINTED AS DEPUTY GENERAL SECRETARY OF AIADMK
In yet another major development in Tamil Nadu politics, TTV Dhinakaran on February 15 was appointed as the Deputy General Secretary of the AIADMK on February 15.
• PALANISWAMI APPOINTED AS HEAD OF AIADMK LEGISLATURE PARTY
After Sasikala was sentenced to four years in jail in connection with the disproportionate assets case, Edappadi K Palaniswami was appointed head of the AIADMK legislature party. Soon after which O. Panneerselvam was expelled from the AIADMK.
• SASIKALA SENTENCED TO FOUR YEARS IN JAIL IN DA CASE
On February 14, Sasikala was convicted in the 19-year-old disproportionate assets case and sentenced to serve four years in jail. She also stood disqualified to take over as Tamil Nadu chief minister.
• TUG OF WAR BETWEEN SASIKALA AND PANNEERSELVAM FOR CM POST
On February 5, O Panneerselvam resigned from the chief minister post and Sasikala was elected head of the AIADMK legislative party and proceeded to stake claim to form the government. State Governor Vidyasagar Rao accepted Panneerselvam's resignation, but asked him to operate in a caretaker capacity.
In another turn of events, Panneerselvam makes startling revelations, including telling to reporters that he 'was forced to resign'.
• SASIKALA APPOINTED AIADMK GENERAL SECRETARY
Sasikala Natarajan, the confidante of late Jayalalithaa appointed as AIADMK's general secretary on December 29 after several party functionaries urged her to lead the party.
• O PANNEERSELVAM SWORN IN AS TAMIL NADU CM
After Jayalalithaa's death, senior AIADMK leader O Paneerselvam sworn in as the next chief minister of Tamil Nadu. According to reports, several AIADMK MLAs were called to ApolloHospital to sign a declaration, making Panneerselvam Jayalalithaa's successor.
• JAYALALITHAA'S DEMISE
Former Tamil Nadu chief minister J Jayalalithaa, popularly addressed as 'Amma' by her supporters and party cadres, dies of cardiac arrest on December 5, 2016 at the ApolloHospital after a prolonged illness