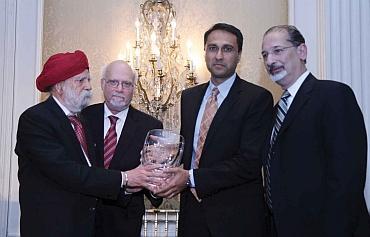 "When you start a prize with the Dalai Lama, how do you keep it going?" asked Thomas P DiNapoli, New York State comptroller, at the Guru Nanak Interfaith Prize event in New York, April 18.
But, he added, the Sardar Ishar Singh Bindra family -- that inaugurated the biannual award six years ago with a highly publicised $50,000 prize through the Hofstra University in New York -- has continued with the awards finding highly deserving individuals.
Two years ago, the recipient was Rabbi Arthur Schneier (who shared it with the International Coalition Religions for Peace). This year's winner is Dr Eboo Patel, a Rhodes Scholar, bestselling author and the founder of Chicago based Interfaith Youth Core, active in at least 125 American schools.
The other two winners, pointed out DiNapoli, are about twice the age of Patel, 35. "It was like lifetime achievement (awards for them)," he said. "He still looks like a college student," Rabinowitz said of Mumbai-born, Chicago-based Patel, who has a PhD in the sociology of religion from Oxford University.
Patel is a member of President Obama's Advisory Council of the White House Office of Faith-based and Neighborhood Partnerships.
Hofstra President Stuart Rabinowitz revealed that no individual has been nominated by so many people as Patel "who is a tireless promoter of religious dialogue and understanding."
DiNapoli quipped: "I am glad he (Patel) does not live in New York. And that means he won't run against me in the next election."
Smiling, DiNapoli, who is an alumnus of Hofstra University, suggested to the Bindra family that after a few decades they might give the award again to Patel.
The event was sponsored by Bill Siegel, a Hofstra graduate, in memory of his mother Beverly Siegel. A special guest, the retired British judge Sir Mota Singh, who was knighted two years ago, addressed the gathering extolling the need for genuine understanding of different religious traditions.
The award was established with a gift from the family of Sardar Ishar Singh Bindra and Sardarni Kuljit Kaur Bindra, prominent Sikh Americans in Brookville, New York.
In September 2000, the Bindra family endowed the Sardarni Kuljit Kaur Bindra Chair in Sikh Studies at Hofstra in honour of the family's matriarch. School officials reminded the over 250 friends of the family and the school who attended the event that following the Bindra initiative, Hofstra has a Sikh music study chair and established Christian and Jewish religious study programs.
Rabinowitz, who had earlier in the day invited Patel to meet with Hofstra students, said soon there will be departments for the study of other religions at the university.
The Hofstra event, titled 'Acts of Faith: Interfaith Leadership in a Time of Religious Crisis', was a conversation with Patel discussing his organization's work and what he calls the 'power of interfaith activity'.
It drew from Patel's own discovery early in his life that being a person of Indian origin, a Muslim and an American were not mutually exclusive developments and his thoughts from his most recent book, Acts of Faith: The Story of an American Muslim, the Struggle for the Soul of a Generation.
Patel said Dr Bernard Firestone, dean of Hofstra's College of Liberal Arts and Sciences and the master of ceremonies at the award event, "is a dynamic young leader who is fiercely committed to the principles the Guru Nanak award was created to honour -- cooperation, understanding, service and peaceful dialogue. That he has focused his efforts on engaging young people, and promoted these values on college and university campuses, only serves to highlight the role such institutions can and should play in fostering a better understanding among people of different faiths and beliefs."
The event began with a hymn composed by Guru Nanak, performed by students of Francesco Cassio, associate professor of music and Sardarni Harbans Kaur Chair at Hofstra. Born in Rome, she has spent 18 years studying music and religion in India.
Congratulating the Bindra family for its engagement in community activities, which include running an annual Sikh Heritage Film Festival, DiNapoli called the Bindras an "incredible success story", and a family that "gives 1,000 percent to the community."
"About 10 years ago, our parents began to discuss how best they can give back not only to the Sikh community but to the larger community too," said T J Bindra, Ishar Singh's son. "Our parents asked how we could make a small change in the world."
Image: (From left) Sardar Ishar Singh Bindra, Hofstra President Stuart Rabinowitz, Dr Eboo Patel, and Bernard J Firestone, dean, Hofstra College of Liberal Arts and Sciences