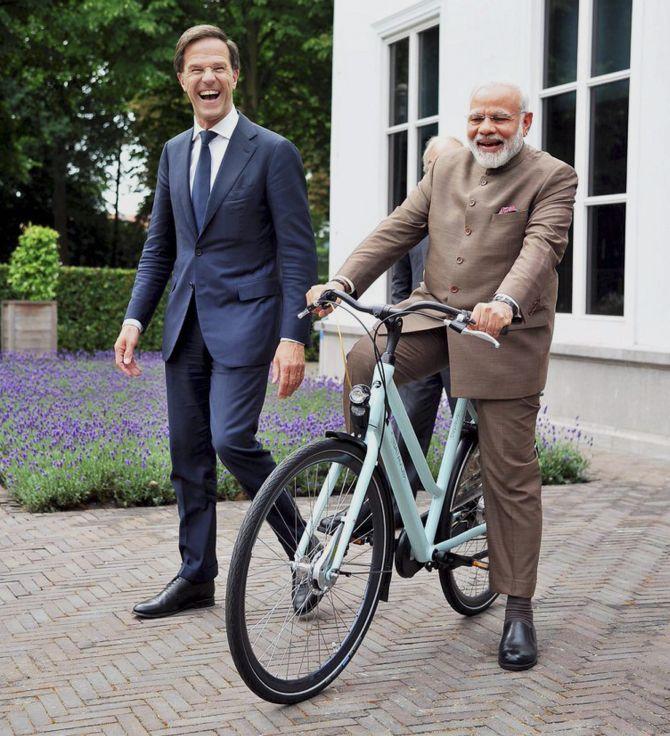 Prime Minister Narendra Modi has received an unusual gift -- a bicycle -- from his Dutch counterpart Mark Rutte after the two leaders met at The Hague.
A picture shared by Prime Minister Modi on Twitter shows him sitting and smiling on the Dutch-made bicycle which was gifted to him by Rutte on Tuesday.
'Thank you @MinPres @markrutte for the bicycle,' Modi tweeted on Wednesday, soon after his return from the Netherlands where he held wide-ranging talks with the Dutch prime minister.
In the photo, Rutte was also seen standing beside Modi. Rutte, 50, usually cycles to work.
In the Netherlands, cycling is a way of life.
In fact, with 18 million bicycles and just 16 million Dutch inhabitants, there are more bicycles than people, according to the invest in Holland website.
In a special gesture, Rutt had on Tuesday tweeted in both Hindi and Dutch languages welcoming Modi and said he was keen to meet him at a time when the two countries are celebrating 70 years of the establishment of Indo-Dutch diplomatic relations.
Modi returned to New Delhi this morning after concluding a three-nation tour to Portugal, the United States and the Netherlands.
IMAGE: Prime Minister Narendra Modi with the bicycle gifted to him by Dutch Prime Minister Mark Rutte in The Hague, Netherlands on Tuesday. Photograph: @narendramodi/Twitter