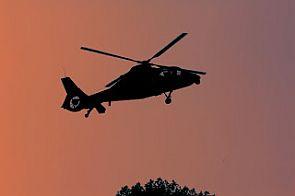 A suspicious low-altitude drone flying in the restricted airspace of the Chinese capital that sparked a major security alert and delayed a number of commercial flights, was shot down by the People's Liberation Army military helicopter, state-media reported one year after the incident.
An unmanned 2.3-meter long drone was noticed in December last year flying over the restricted airspace of Beijing, prompting the rapid-response forces and military aircrafts from 10 different PLA regiments and surface-to-air missiles to go into battle mode, the mouthpiece of the Chinese army -- PLA Daily -- reported.
Three people who flew the drone went on trial on October 22, charged with endangering public security, the report said.
The white drone was reportedly carrying out mapping and site measurements of real estate developments in the area. The security alert began after a suspicious, unidentified object was detected taking off from a small airport in Sanhe, Hebei province, the court was told.
Commanders in the PLA's north air division immediately ordered soldiers and other personnel from its land and air forces to prepare for battle. Within six minutes, the command centre had discovered that a small aircraft was involved and ordered an armed helicopter to intercept it and make a closer examination.
The helicopter spotted the drone and shot it down after a series of its 'emergency warning' were ignored. After destroying the drone, the crew of the helicopter spotted three people who had been controlling the drone in ac car. They were arrested and put on trial.
The emergency sparked by the drone also delayed a number of flights on the Beijing airport. Air China claimed that the drone had caused a total of 11 flights to be delayed resulting in looses of about 18,000 yuan ($8000).
In China, drones flying at a height of less than 1,000 metres cannot take off with the required prior permission from the PLA Air Force. All low-altitude flights must be made within existing laws, including China's civil aviation law and general aviation flight control ordinance, the report added.