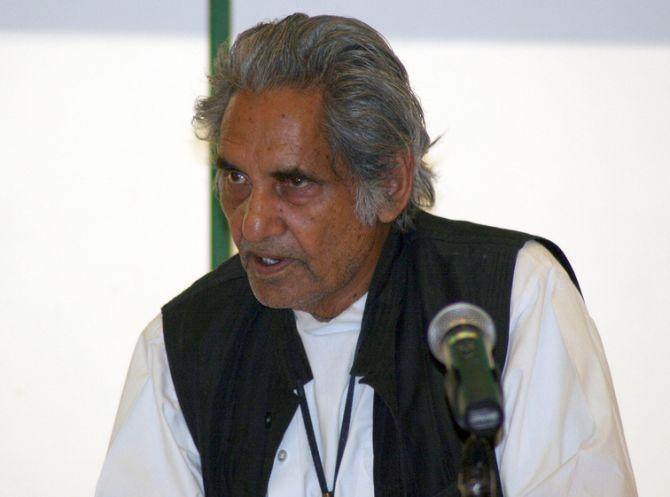 Doyen of Hindi poetry Gopal Das Neeraj passed away on Thursday evening at the All India Institute of Medical Sciences trauma centre in New Delhi. He was 93.
A Padma Bhushan awardee, Neeraj had suffered a head injury following a fall at his house in Agra and was undergoing treatment at a hospital there, Dr Rajesh Malhotra, chief of the AIIMS trauma centre, said.
"He was shifted to the trauma centre here last night in a critical condition. He had kidney failure, infection all over his body and head injury. He passed away today at around 7.30 pm," he said.
Neeraj's family was by his side during his last hours.
The poet had also written songs for Bollywood films.
He was awarded Padma Shri in 1991 and Padma Bhushan in 2007.
Many of popular Bollywood songs penned by Neeraj went on to become huge hits.
'Karvaan guzar gaya, gubar dekhte rahe', was one of his most popular tracks.
Before he gained name and fame as a lyricist, Neeraj had even worked in a Meerut college where, it is said, he was accused of not taking classes.
Angry at the allegations, he quit the institution and joined another one in Aligarh where he taught Hindi.
Neeraj liked the city and Maurice road, Janakpuri, became his address. However, his increasing popularity as a poet attracted Bollywood's attention.
He got offers to pen songs for films which gave him wider recognition. Neeraj shifted to Mumbai and penned one popular number after another.
However, some years later, Neeraj again decided to shift back to Aligarh.
His son, Shashank Prabhakar said the poet was admitted to AIIMS on Wednesday.
Neeraj's body will be brought to Agra and then to Aligarh for cremation, he said.
Neeraj was born in Purvali village of Uttar Pradesh's Etawa district.
Photograph: Wikimedia Commons